AusPREP: Austin Pre-freshman Engineering Program
Announcements
Thank you to everyone for a wonderful 2017 program. Stay tuned for information about the upcoming 2018 program. 
Applications will be posted on this page in early 2018.
Informational flyer can be found here .
Summer 2017 Handbook and Consent Forms
2017 AusPREP Consent Forms contains: Parent Consent Form, Student Agreement, Release & Indemnification Agreement, and Health Information & Consent Form
Summer 2018 Program

AusPrEP – TBD
Pre-Algebra – TBD
No class will be held on the following dates: June 19th, July 4th.
A $75 registration fee will be required upon enrollment.
Important Dates
Application deadline – Deadline to submit application materials: April 28, 2018, or until all seats are filled.
Successful candidates will be notified of acceptance in May.
PARENT ORIENTATION is required for parents and will be scheduled in May 2018, DL auditorium, 4-6 pm. If you were unable to attend, please contact the program director.
About Austin Pre-freshman Engineering Program (AusPrEP)
Austin Pre-freshman Engineering Program (AusPREP) is one of the Texas Pre-freshman Engineering Programs (TexPREP) located on college campuses in Texas. PrEP was founded to identify high achieving middle and high school students with the potential and interest in becoming scientists and engineers and to reinforce them in the pursuit of these fields. TexPREP began in 1979 at the University of Texas at San Antonio under the leadership of Dr. Manuel Berriozabal and has been recognized nationally for preparing students for college engineering and science studies.
AusPREP will not discriminate on the basis of race, creed, sex, color, age, handicap, or national origin in selecting students for participation nor in the administration of this project. AusPREP strongly encourages women and students from minority groups, who have been traditionally underrepresented in science and engineering, to apply for participation. Middle school students who are currently in grades sixth, seventh, or eighth are encouraged to apply for PREP year one. Students currently in the fifth grade are encouraged to apply for the Pre-Algebra Institute.
Applications
AusPREP.Recommendation Forms.2017  Math and Science Teacher Recommendations forms. To be completed by the applicant's math and science teachers, and a counselor or assistant principal.
Pre Algebra and Year 1-2017  This application is to be completed by all applying to the PreAlgebra Institute and Year One of AusPREP.
AusPREP.Returning Participant.2017  This application is to be completed by participants who have completed year one or year two of the AusPREP Program.
AusPREP Program Assistant Application 2017  Job description and application for college students desiring to intern as a Program Assistant with AusPREP.
AusPREP Instructor Application 2017  To be completed by teachers desiring to be instructors with AusPREP.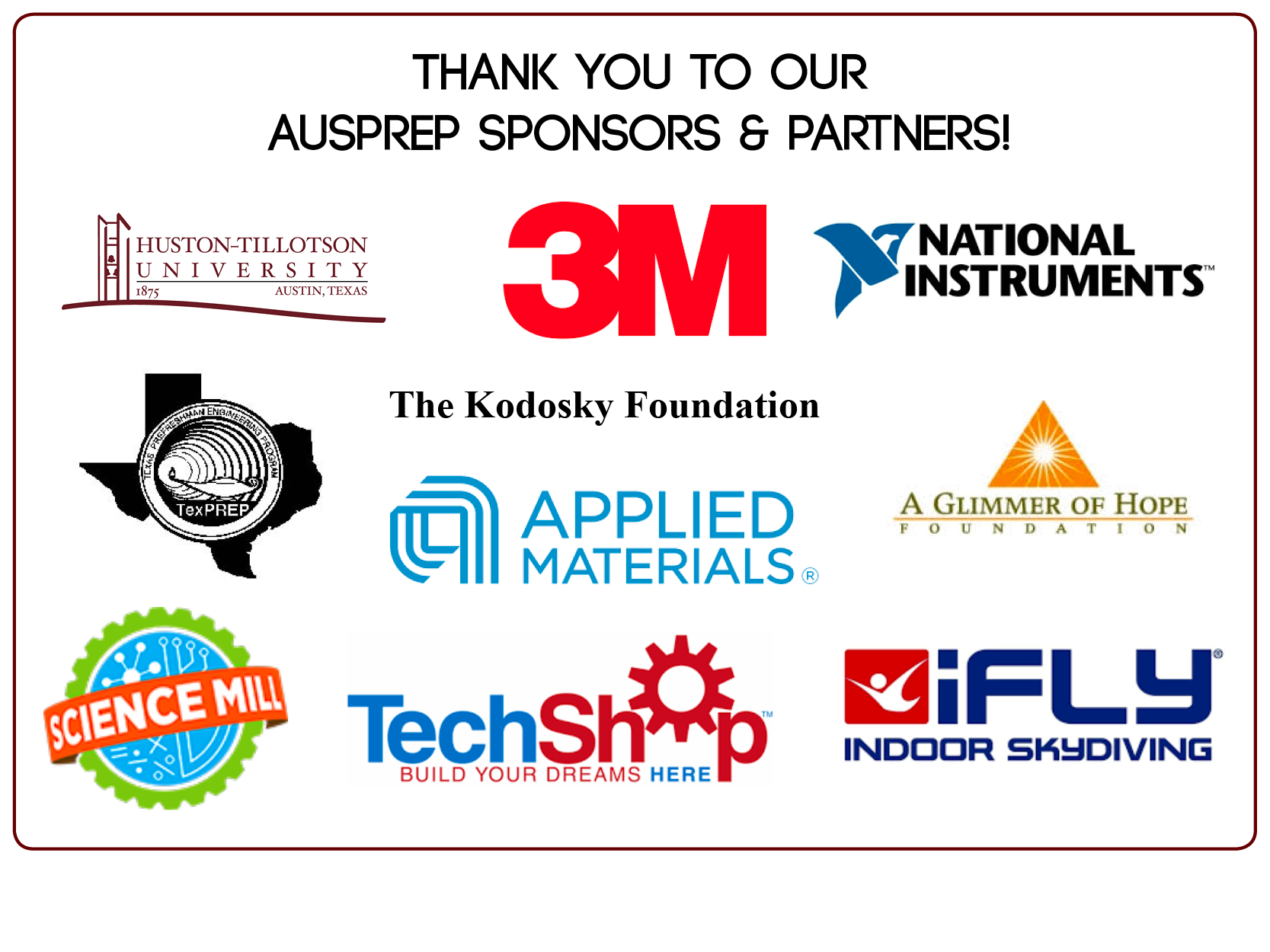 Career Awareness Speakers
We are also seeking STEM professionals to come in and bring their perspective to students for our daily Career Awareness sessions. The AusPrEP program increases opportunities in the STEM fields for high-achieving, under-represented students by building their skills in math and engineering concepts during a 7-week summer program. Career Awareness sessions are held daily from June 12th – July 27th at 10:30 am – 11:30 am in the Auditorium in Dickey-Lawless Hall on Huston Tillotson's campus east of downtown Austin (900 Chicon St, Austin).