HT's Educator Preparation Program Earns TEA's "Accredited" Status
Thursday May, 30 2013
(AUSTIN, Texas) 5.30.13 — Huston-Tillotson University officials received notification from the Texas Education Agency (TEA) that its Educator Preparation Program (EPP) earned the "accredited" status under the Accountability System for Educator Preparation (ASEP).
The accreditation status for the program is based upon State Board of Educator Certification (SBEC) standards of the candidate's examination performance.  HT undergraduate and Alternative Teacher Certification Program (ATCP) candidates achieved a 90% pass rate to surpass the 80% pass rate standard set by SBEC. "Our team of dedicated professionals, advisors, and the administration has always provided the support for the program in order to ensure students' success," said Dr. Ruth Kane, Chair, Educator Preparation Department and Associate Professor.  "We knew we were operating at the highest level." 
Huston-Tillotson University with its 138 year history has roots dating back to Tillotson Collegiate and Normal Institute established for the purpose of preparing teachers to educate the black community after the Civil War. Today, HT offers Bachelor of Arts and Bachelor of Science degrees in 19 areas of study and serves a diverse population of students from around the world.
HT's Educator Preparation Program is framed within a social justice perspective that enhances the educator candidate's ability to apply research-based pedagogy in a wide range of educational settings. To fulfill this mission, the educator candidates engage in field-based experiences with diverse populations through collegial relationships, reciprocal dialogue, and authentic practices in order for educator candidates to emerge as professionals with the competence and commitment to participate in and contribute to a complex and changing society.
Undergraduates from the program receive a degree in Teacher Education with an interdisciplinary focus or a specific academic concentration (e.g. mathematics, history, and music). Every educator candidate completes a bachelor's degree with an academic major or interdisciplinary academic major as well as the Professional Development sequence of educator preparation courses. Candidates in the ATCP earn the certificate in their respective areas to teach in Texas.
"This accomplishment continues to bolster the University's standing as a preeminent institution of higher learning," said President Larry L. Earvin, Ph.D.
Alternative Teacher Certification Candidates Earn Credentials to Teach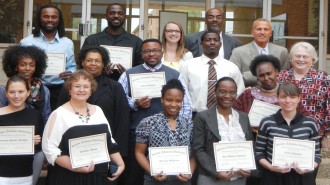 Nineteen candidates, Huston-Tillotson University's largest Alternative Teacher Certification Program class, completed course requirements to earn their teaching certificate on April 25, 2013.  Candidates pictured with Ruth Kane, Chair, Education Department, are as follows:
Michelle Berkering, Generalist EC-6, Special Education and ESL Supplemental, Fifth Grade, ESL, Sims Elementary School, AISD
Logan Blackmon, Generalist EC-6, 5th Grade Math, Gallegos Elementary School, Houston ISD
Christine Bryan, Generalist 4-8, ESL Supplemental, Fifth and Sixth Grade ELA, Texas Preparatory School, San Marco, Texas
Nancy Byers, Special Education EC-12, Special Education Inclusion, Del Valle High School, Del Valle ISD
Demetrius (DJ) Colvin, Special Education EC-12, ELAR 4-8 HS ELA, Austin Can Academy, Austin, Texas
Reginald Davis, Mathematics 4-8, Seventh Grade Math, Decker Middle School, AISD
Victor Ike (AISD Teacher of Promise) Special Education EC-12 Special Education Inclusion, Pearce Middle School, AISD
Corey Johnson, Special EC-12, ELAR 4-8, ESL Supplemental, Del Valle DAEP, Del Valle ISD
David Katz, Physical Education EC-12, Paragon Preparatory Middle School, Austin, Texas
Gail Maduro-Johnson (AISD Teacher of Promise) Science 4-8, Seventh Grade, Martin Middle School, AISD
Shereen McKenzie, Science 4-8, Sixth and Seventh Grade Science, Texas Empowerment Academy, Austin, Texas
Vanessa Mendez-Ocampo, Generalist, EC-6, Special Education EC-12, BTLPT and Bilingual Supplemental, Special Education and Bilingual Class, Walnut Creek Elementary School, AISD
Natasha Morgan, Generalist EC-6, Fourth and Fifth Grade ELAR and Social Studies, Harmony School of Excellence, Austin, Texas
Brandon Pleasants, Generalist EC-6, Generalist 4-8, Special Education 4-8, Second Grade, Almaty International School, Quality Schools International, Kalkaman Village, Almaty, Kazakhstan
Veronica (Maragwa) Schroeder, Special Education EC-12, Garza Independence High School, AISD
Dionne Taylor, Special Education EC-12, Generalist 4-8, Fourth Grade Through Eighth Grade ELA, Harmony School of Excellence, Austin, Texas
Robert Walker, Special Education EC-12, Special Education SBS, Reagan High School, AISD
Corey Wiggins, Generalist EC-6, Sixth Grade ELAR, Kealing Middle School, AISD
Banner Picture
(Right) Gail Maduro-Johnson (AISD Teacher of Promise) Science 4-8, Seventh Grade, Martin Middle School, AISD
Shereen McKenzie, Science 4-8, Sixth and Seventh Grade Science, Texas Empowerment Academy, Austin, Texas