Alternative Teacher Certification Program
Huston-Tillotson University's Alternative Teacher Certification Program (HT ATCP) is an innovative, flexible, and high quality program to prepare the most qualified, diverse, and effective teachers in Texas. Teachers trained at HT's ATCP are educating children in more than 40 school districts in Texas and have a nearly perfect success rate on state certification examinations. The HT ATCP is accredited by the Texas State Board for Educator Certification (SBEC) and meets state and national requirements for alternative pathways to teacher certification.
HT ATCP is ideal if you have a bachelor's degree and are seeking to: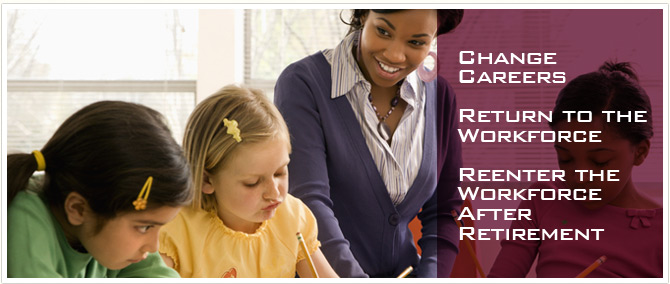 Program Details
HT ATCP is implemented in a three-semester(Phase 1, 2, and 3) sequence with Phase 1 being the initial training prior to internship and Phase 2 and 3 consisting of the candidate's internship or clinical teaching as well as ongoing training.
A new cycle begins two times during the course of an academic year: spring and summer.
Spring application deadline is November 1

5

.
Spring cycle begins in early January.
Spring Phase 1 classes meet 6-9 PM three nights a week (Tue-Thurs).
Summer application deadline is April 1

5

.
Summer cycle begins in early May.
Summer Phase 1 classes meet 6-9 PM five nights a week (Mon-Fri).
The strategy for delivering training consists of seminars, workshops, and online instruction presented by real-world practitioners who exemplify best teaching practices.
Interested in our Alternative Teacher Certification Program? Contact the program director at cdhamilton@htu.edu 
Application Materials
Certifications Offered
Core Subjects EC-6 Elementary Certification
Core Subjects 4-8
All Level Certificates
Physical Education EC-12
Special Education EC-12
Music EC-12
Single Subject Certificates
English, Language Arts, & Reading 7-12
Mathematics 7-12
Mathematics/Science 4-8
Life Sciences 7-12
Physical Sciences 7-12
Science 7-12
Social Studies 7-12
History 7-12
Computer Science 8-12
Technology Applications 8-12
Supplemental Certifications*
Bilingual Supplemental
English as a Second Language Supplemental
Special Education Supplemental
*Must also earn a content area certificate
 Mission Statement
The mission of Huston-Tillotson University Alternative Teacher Certification Program is to prepare diverse, degreed individuals for a successful EC-12 teaching career through a focused curriculum, supported internship, and on-going professional development.
How to obtain your TEA number: TEAL/ECOS Sign up Instructions