Adult Degree Program
At Huston-Tillotson University (HT), degree programs reflect the urgent demands of the changing times by providing the practical, relevant knowledge needed for success in today's global economy. While highly focused and accelerated, all programs retain the same high standards that have distinguished HT graduates for the past 138 years.


Degrees for Working Adults
CONVENIENT SCHEDULING – one course at a time
CENTRAL LOCATION – The Austin campus offers easy access by automobile, bus or metro rail
AFFORDABLE – Lower tuition costs with financial aid available to those who qualify
ACCELERATED COURSES - Graduate in less time than you can imagine

Follow us on Social Media!

Bachelor of Arts in Business Administration

The business administration program delivers a course of study preparing competent business professionals to meet the challenges of an interdependent world. The program also provides the tools to enable students to make an immediate contribution to the business environment.
Associate of Arts in Liberal Arts
The Associate of Arts in Liberal Arts (AA) is designed as an intermediate degree that provides the foundation for further studies in an array of bachelor's degrees. Courses in this degree provide the fundamentals for success, especially for non-traditional students who may desire a mid-way benchmark that they are well on their way to achieving new professional career goals.
Bachelor of Arts in Psychology
The curriculum of the Psychology program is tailored to meet the needs of adult learners interested in a range of professional careers and/or in graduate study.  Psychology is a relevant field of study for many professions including social work, counseling, education, public health, business, law, and criminal justice.  Students with degrees in psychology often go on to graduate study in counseling, criminal justice, educational psychology, public health, and social work.
Bachelor of Arts in Criminal Justice

The Bachelor of Arts in Criminal Justice is a four-year interdisciplinary program in the study of crime and the administration of the justice system. Students study law enforcement, courts and corrections with the applicable city, county, state and federal laws and procedures. The program will endow students with the skills necessary for critical knowledge, communication, personal growth and real-world application opportunities within the Criminal Justice discipline.
The program will endow students with the skills necessary for critical knowledge, communication, personal growth, and real-world application opportunities within the Criminal Justice discipline. The curriculum includes a historical overview of the stages of development through which the criminal justice system has evolved and the current state of the system. A broad range of analyses will be offered to meet the academic needs of both professional students who plan future careers in the criminal justice field and those already employed in the criminal justice system.

Theory, Philosophy and Practice
Huston-Tillotson University recognizes that the adult learner differs greatly from the traditional college student. Adults bring a wealth of knowledge and experience to the classroom and share responsibility with the instructor for successful outcomes. HT's curriculum provides valuable educational experiences for working adults whose access to higher education may be otherwise limited, due to personal, financial and professional responsibilities.
In HT's programs, courses are offered in a format designed specifically for working adults. In order to accommodate students' busy schedules, classes are offered once a week, with one learning team meeting a week. HT's one-time registration process is completed at the beginning of the student's program.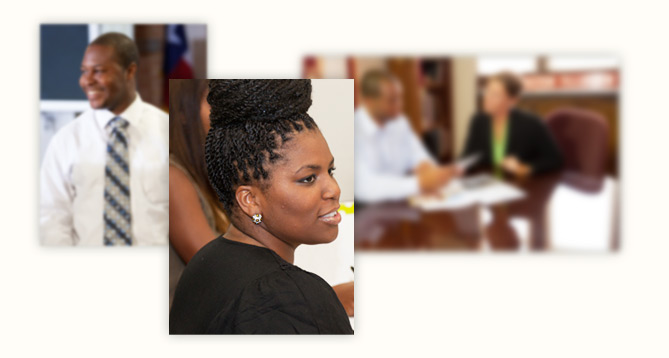 Because HT understands that many adult students have taken courses at a variety of colleges, HT accepts transfer credits from regionally and some nationally accredited institutions. Also, HT recognizes most American Council on Education (ACE) recommendations, including credits related to military training. When a student applies, HT orders official copies of their transcripts and conducts an evaluation to determine which credits will transfer. The adult degree program is structured to accommodate working professionals, enabling them to achieve their educational goals as quickly as possible, while balancing their busy professional and personal lives.