Intercollegiate Athletics
Women's Outdoor Track & Field
Announcements
Returning this year is Destiny Jenkins with the time of 12.28 seconds in the 100m dash, Darla Wandji will return with a time of 25.70 seconds in the 200m dash. LeeAnn Nash is a senior returning with the time of 58.90 seconds in 400m dash, and Ariana Selman with the marks of 5.13m in the long jump. Kaylynn Parker is returning with throws of 30.57m in discus and 23.15 in javelin. We are very excited to see these young ladies progress this coming year as well as other returning athlete and fresh faces. Be on the look out for schedules and a great season to come.
As you know, coaching track and field is my passion. As the new head coach of Men's & Women's track and field at Huston-Tillotson University, I have the honor of teaching dedicated and gifted students who come from all walks of life. Established in 1875, Huston-Tillotson University is the oldest institution of higher learning in Central Texas – yes, it's older than the University of Texas! There are over 1100 students enrolled at HT. Many students (71%) come from low-income households and 37% are first-generation college students. Student-athletes have opportunities to compete in intercollegiate athletics in an atmosphere that emphasizes both academic and athletic excellence. As a private, historically black university, HT has traditionally supported itself through tuition and fundraising.
I believe HT's athletic achievements have no boundaries. Olympians and professional athletes at one time called Huston-Tillotson home. However, the budget required to offer a track and field program that matches the athletes' talents and potential is not currently available. I am seeking funds to take this program to the next level. So yes I need your help! Please click the donation link below and see Track and Field Campaign and help us reach our goal of $50,000 a year!
Thanks
Royce Dennis
Click the icon to make your donation.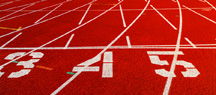 The team  left to right Onyeoma Okereke, Sara Mackey, Lesiley Bethea, and Jaylah Wyatt won the women's 4 x 100 meter relay with the A standard and a time of 47.94 this past weekend. The team qualified for the NAIA National Championships. Read More »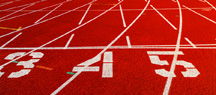 We are already off to a great start with new Head coach Royce Dennis… Go Rams! Read More »