Intercollegiate Athletics
Men's Outdoor Track & Field
Announcements
2016 Outdoor Track Nationals
The 4x100 relay team consisting of Rodney Brown, Quasmon Richmond, Abram Pettis & Wayne Hargrove qualified for a spot in the finals on Saturday, May 28. The race begins at 2:50 p.m. central time. You can watch the race at http://portal.stretchinternet.com/naia/ Good luck to our Rams! Ram Up!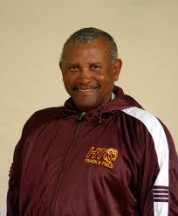 Coach Howard Ware, Jr. has helped transformed the programs into recurrent conference and national contenders. While at Huston-Tilloston University, Ware has produced more than 10 NAIA Champions, 80 All Americans, and 200 Red River Champions as All Conference and All Americans both indoor and outdoor. His accomplishments have included six Red River Conference championship, four Coach of the Year honors, and a program that has produced over 110 NAIA All-Americans, 170 Red River All-Conference selections, and one Olympian.
Some successful track athletes are Serger Bengono 2000 Olympian who now coaches at Norfolk State University; Laura Hayes All American who now coaches at Martin Ranch High School in Katy, Texas; Richard Petty, Jr. All American and National Champion, who now coaches in the Bahamas; Jason Gerald All American and National Champion who coaches in Trinidad; David King, All Conference and National Qualifier who now owns King Fitness in Austin, Texas; DeShaikia Banks, 11 time All American, one time National Champion who now coaches in Austin, Texas; In 2000 the men's 4×100 meter relay ran the fastest time of 40.24 for a school record and Donivon Housen 200-Meter Champion, All American National Champion with a time of 20.5 lives and coaches in France.
Red RiverAthletic Conference Championships
On Friday April 20th Huston-Tillotson track team earned four All Conference titles. This meet was held at Langston University for two days. HT is proud of its teams.
Women

Simone Sawyer
2nd in the women's Shot Put
3rd in the women's Discus
Alexa Wright
5th in the women's Shot Put
6th in the women's Shot Put
Montranique Smith 
1st in the women's High Jump
Men 
Patrick Bousqueto
1st in the men's High Jump