Intercollegiate Athletics
Men's Basketball
Announcements
HT Men's Basketball Scrimmage
The scrimmage against Lone Star College on October 22, 2016 at 11:00 a.m. has been cancelled due to the Lady Rams conference volleyball game at 1:00 p.m.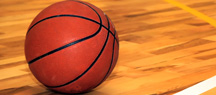 The 6-5 guard out of Houston, Texas gathered Honorable Mention honors for the 2015-2016 NAIA Men's Basketball All American selections. Fields averaged 27 points per contest, which not only led the Rams but the entire NAIA in  points per game. He was ninth overall in Read More »
9/25/2015
Rams Supporters—
 We hope all is well as fall approaches. We've been working hard for almost two months now since our team showed up on campus in mid August, and we've seen some unbelievable strides in our players on the floor both individually and collectively as a team.
 Fall workouts, strength, and conditioning ended on a very high note in late September, and we officially started practice in mid September. Our coaching staff has been very pleased so far with our players' intensity, ability to defend, and rebound, and the overall chemistry of our team.
 Over the next several days, we'll be playing in a variety of scrimmages to get ready for our October 30 official season opener at home vs. Dillard University.
 We will be playing a very good NAIA National Powerhouse from Fort Worth in a private scrimmage. Texas Wesleyan won the NAIA National Championship a few years ago, so this will be a great challenge and experience. On Oct 24 we will host Northwest Vista Community College out of San Antonio. Our emphasis in the scrimmages will be playing hard, implementing our system on both offense & defense, and trying to decide on our eventual rotations and lineups. This will be a very important time for our team. 
 This group has a chance to have a really special season. We feel like we have all of the necessary components for our team, but more importantly, our kids are really buying in to our philosophy and working hard on and off the court.
 Only time will tell, though!
 Go Rams!
 Coach Henderson