Annual Fund Donation

The Annual Fund
The Annual Fund is the foundation of Huston-Tillotson University's fundraising program. Its monies are unrestricted and used to meet the University's most crucial needs annually. The Annual Fund supports the mission of the University by introducing alumni, parents, friends, faculty, and staff to the importance of giving yearly to enhance programs and assist in the daily operations of the University. 
Planned Giving
Planned gifts give back, allowing you to take sizable income, capital gains, and estate deductions on your taxes. They can provide income for you and your family for life. In addition, planned gifts can be much larger than other gifts, so you can leave a legacy that fits your philanthropic goals.
Establish a Scholarship
Institutional Advancement and Alumni Affairs staffs are available to work with you to define and establish scholarship funds. With your instructions we will compose a letter that will provide the University with specific direction to administer the fund in accordance with your intentions.
Class Reunion Gift Campaign
Your class reunion is a very special time – a time to return to campus, reunite with old friends and perhaps reconnect with a favorite professor. It is a time to remember your earlier years and reflect on everything that you have gained from your time spent in the classrooms, on the playing fields and in the residence halls of the University. It is a time to come back and most importantly, an opportunity to give back!
Bookstore
When you make purchases from the HT bookstore not only do you show your Ram pride, but a percentage of the proceeds are returned to HT. Visit our bookstore to purchase alumni paraphernalia and other items to show your school spirit. 
Naming Opportunities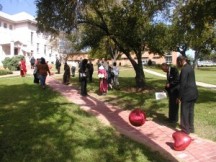 An array of possibilities exists at Huston-Tillotson University for donors interested in naming opportunities. A named gift opportunity sends a strong message to our students and campus visitors. Review our existing naming opportunities. Donors are encouraged to work with Institutional Advancement to create other naming opportunities that might be more closely aligned with their special areas of interest. All namings are subject to Huston-Tillotson University President and Board of Trustees approvals.
Buy a Brick
Make your mark on the HT campus with a personalized brick on Union Plaza and Walkway. Four easy ways to order:
Mail this order form with your payment to:Huston-Tillotson University 
Union Plaza and Walkway Brick Program 
900 Chicon Street 
Austin, TX 78702
Fax your order with credit card information to 512.505.3196.
(Please call 512.505.3074 to confirm fax orders.)
Telephone your order to 512.505.3074.
E-mail your order now. alumni@htu.edu
Buying a brick is one of the many ways to make a donation to Huston-Tillotson. It's a lasting contribution visible to everyone who visits our famous Walkway in front of the second oldest building on campus.
How to Give
There are many convenient ways to make a gift:
Online
Supporting the University is simple. Donate to HT using the secure online method
By Mail
If you prefer to mail your gift, please make your check payable to Huston–Tillotson University and send to the following address:
Huston-Tillotson University 
Institutional Advancement – Annual Fund 
900 Chicon Street 
Austin, Texas 78702-2795
By Fax
If you prefer to make your gift by fax, please complete the printable pledge form with your credit card number, and fax it to 512.505.3196.
By Phone
To make a gift by telephone, please call 512.505.3073 Monday–Friday between 9:00 a.m. and 5:00 p.m. CST. Huston–Tillotson accepts American Express, Discover, MasterCard, Visa, and payments over the telephone.