HT Joins Texas Campus Compact Students in Service
Friday Oct, 28 2011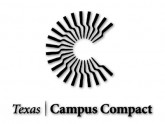 (AUSTIN, Texas) 10.28.11 — Huston-Tillotson students are among 80 college and university students in the Central Texas area scheduled to engage in service learning projects as part of the Texas Campus Compact Students in Service initiative.
Participating students earn stipends in exchange for partaking in service projects aimed at addressing critical community needs. In addition, the projects help students focus on others while working with classmates in order to positively impact and transform communities. The program objectives include direct service in the areas of meaningful community-based service learning and civic participation for "Closing the Gap" of educational inequities; online and in-person training for improved understanding of the national service network and the acquisition of skills for service assignments; professional and personal individual goal achievements; heightened civic responsibility; and stronger service ethics.
Founded in 2000, Texas Campus Compact is part of a national coalition that promotes service learning and is committed to the civic purposes of higher education. Huston-Tillotson University  is Austin's oldest institution of higher education, offering Bachelor of Arts and Bachelor of Science degrees in 15 areas of study.
For more information, visit www.texascampuscompact.org.