Cameron Green Elected to Pre-Alumni Council Board
Monday Mar, 11 2013
By Micah Johnson
Communication Major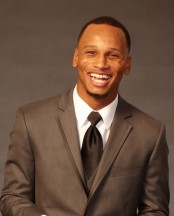 (Atlanta, GA) 3.11.13 — Cameron Green, a sophomore communication major at Huston-Tillotson University, was elected vice-president of  the UNCF Pre-Alumni Council National Executive Board during the 67th Annual Leadership Conference held recently in Atlanta, GA.  Green currently serves as HT's Student Government Association student activities director, as well as a member of the Gentlemen's Club. Green is a first generation college student currently matriculating at HT and has goals of entering law school upon graduating.  He aspires to return to his hometown of Baltimore, Maryland, to pursue a career in politics. 
HT's Pre-Alumni Council Traveled to Atlanta for the UNCF Leadership Conference
By Sharnia Rowlett
Intern
Communication Major
"Partnership for Transformation: Moving Students To and Through College" was the theme of the 55th Annual NPAC Leadership Conference attended by a dozen Huston-Tillotson University students.  HT is a charter member of UNCF as one of the 38 UNCF member-colleges and universities in attendance at the  week-long conference.
Keynote speaker Judge Glenda A. Hatchett empowered students with a message to get serious about their purpose and passion. Hatchett asked, "What is that one thing you always wanted to do?"
Each day was filled with sessions to equip and prompt UNCF scholars with the skills and tools needed to find their path to greatness, dress for success, and to gaining the job of their dreams.
HT's 2012-2013 Miss UNCF also competed with other UNCF member- colleges and universities as queens advanced their institution's scholarship funding. Cameron Green proudly stepped down as NPAC's Southwestern Regional Director as he was elected NPAC Vice President. Sharnia Rowlett was appointed editor of the Torch, the national pre alumni newsletter and is awaiting final confirmaton.
Below are eight tips by Rose Flenrol, Manager of Social Responsibility,  FedEx Corporation, to address the transition from a collegiate career to a prosperous future.
Gain experience from an early internship. "Better the brand, better the opportunity"
Get to know your professors, because employers appreciate a distinguished recommendation letter
Begin thinking like a professional! Obtain business cards and a professional email address
Clean up your online image
Connect with the people you meet along the way
Join your Alumni Association immediately
Seek a mentor
Set short and long terms goals for yourself