Miss and Mr. HT Coronation Scheduled
Monday Oct, 29 2012
(AUSTIN, Texas) 10.29.12 —Jasmine Cormier and Casey Rodriguez were crowned Miss and Mr. Huston-Tillotson University for the 2012-2013 academic year. A coronation, introducing them to the greater Central Texas community, will be held on Friday, Nov. 2 at 7 p.m. in King-Seabrook Chapel. 
Cormier is a senior majoring in business administration with a concentration in accounting.  She grew up in California but calls Beaumont, Texas, home. She has an interest in international travels, and, in particular, the Kingdom of Cambodia in Southeast Asia in order to assist with transitional housing for young girls abroad and locally.
Cormier's campus involvement includes positions as a Resident Hall Assistant and historian of Zeta Phi Beta Sorority, Inc., Upsilon Alpha Chapter.  She is also captain of the Ram-Nites Dance Team and active in Religious Life Campus Ministry. 
She is the daughter of the late Angela Broussard and David Cormier.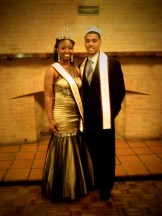 Rodriguez, a junior from San Antonio, Texas, is a kinesiology major with a concentration in exercise science.  He is also a Resident Hall Assistant, a member of the Gentleman's Club, Pre-Alumni Council, Brothers of Fellowship, and Kappa Alpha Psi Fraternity, Inc.  He comes from a military family and plans to enter the Air Force upon graduating in order to specialize in a medical area. He is the son of Daniel and Diane Rodriguez. 
Both will represent the University in national competitions as well as local and state events and activities during their reign.
The coronation is a semi-formal event that is free and open to the public with a reception immediately following the program.