Career & Graduate Development
Class of 2020
Spring 2020 Graduation Check List
The team of Linda Y. Jackson, Director of the Center for Civic Engagement and Community Outreach, and Steven Hatchett, Director of Career Services & Graduate Development, will guide you through the completion process in order to mail your diploma to you.  Below you will find the Graduation Check List required to begin the process which includes links to the necessary portals to capture your information.
Mrs. Jackson can be reached at 512.505.3006 or lyjackson@htu.edu and Mr. Hatchett can be reached at 512.505.3041 or shatchett@htu.edu, if you have questions or need assistance with the checkout process.  A senior class meeting coordinated with the Senior Class President will be conducted virtually. Stay tuned for dates.
Job Prospects & HT's Job Board
To be successful in your job/career search, it is important to do your "employer homework". You must determine "who the employer is?", "what the employer does?" and "how good the employer is at doing….?"
This step will allow you, the job seeker, to know what to tell the employer in a focused cover letter and during the interview, what you can do for them today.
Did you register your résumé for job prospects via HT's Job Board?
Visit https://htu.joinhandshake.com/login.   If not registered, type in username and password using your current HT email address.  Contact Mr. Steven Hatchett at the Office of Career and Graduate Development via careerservices@htu.edu.
Begin the checkout process now by completing the Graduation Check List below or by navigating to the forms document with the same information.
The Huston-Tillotson University May 2020 Commencement has been postponed. Please know that the University is committed to honoring your hard work and achievement and you will have your moment in the spotlight for all to witness when we are past this coronavirus pandemic.
In the meantime, receiving your diploma means that you have fulfilled the University's requirements.  Therefore, all graduation obligations, course work, grades, fees, and fines must be satisfied in order for you to receive your diploma. Your diploma will be mailed to you before the end of May 2020, if you have satisfied the graduation requirements. Start the process now by completing the form below.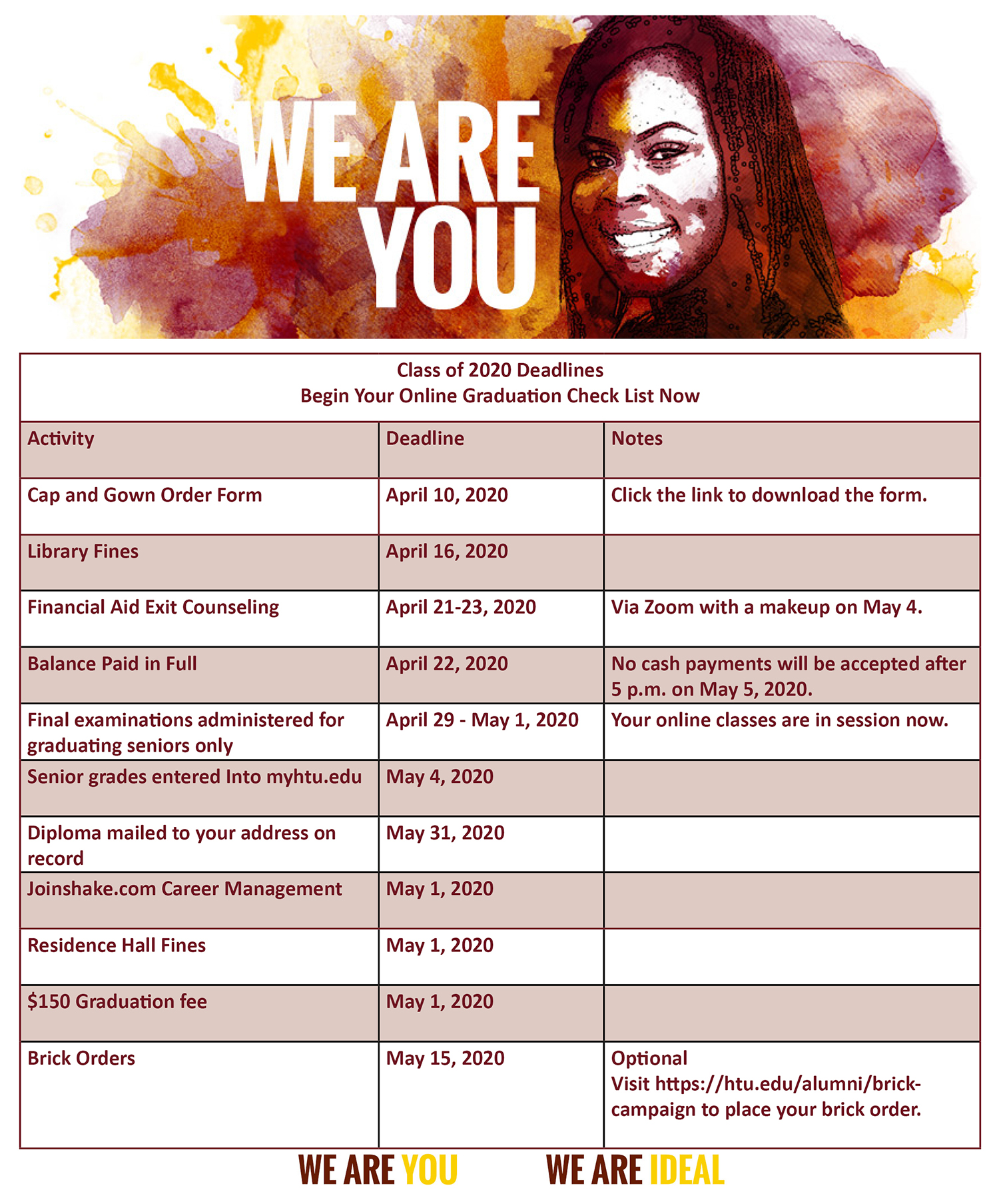 Order your graduation regalia here for traditional and master's students and here for ADP students.
For your convenience, complete this form or the form fields below (Do not complete both forms)