Dr. Mae Jemison Named 2021 Commencement Speaker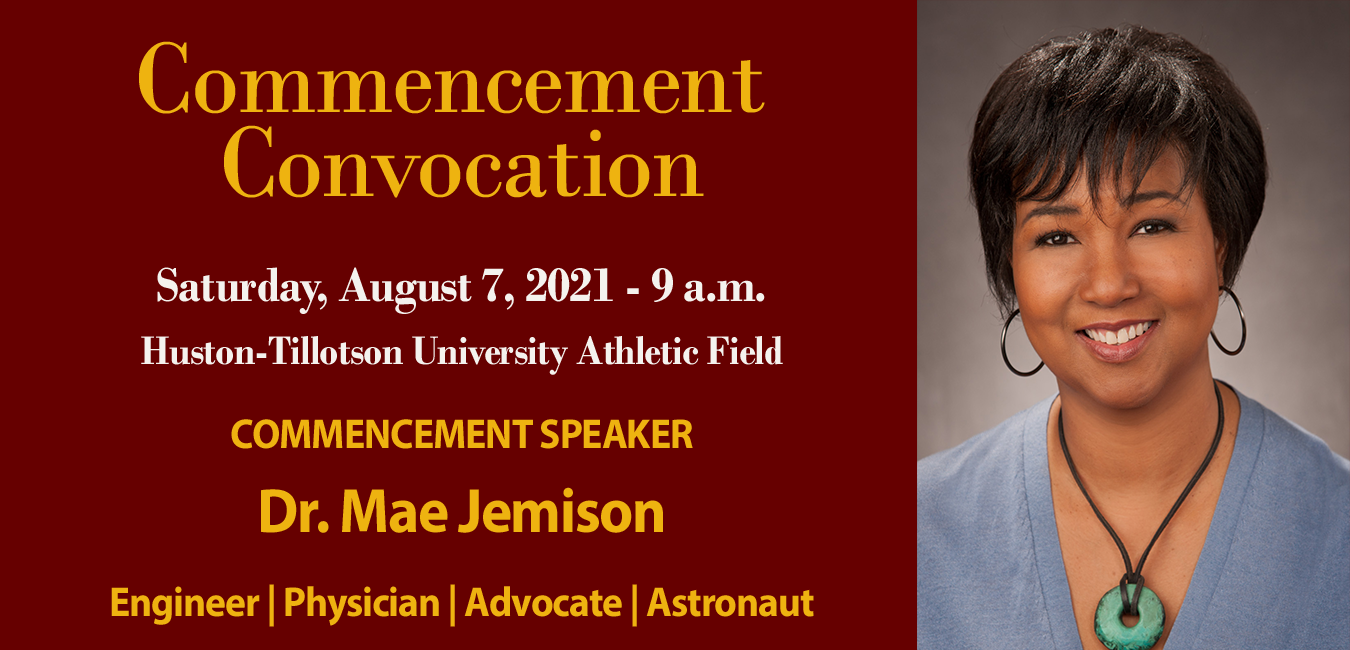 Engineer, physician, advocate and astronaut Dr. Mae Jemison, the first woman of color to go into space, will deliver the commencement address at Huston-Tillotson University's 2021 Commencement Convocation on Saturday, August 7, 2021, at 9 a.m.
The ceremony will be held on the Huston-Tillotson University Athletic Field, located at 900 Chicon Street. The occasion marks the return to an in-person graduation event for the first time since 2019, as the 2020 commencement exercises were postponed due to the Covid-19 pandemic.
The convocation will recognize graduating classes of 2020 and 2021, including honors students from both classes, as well as the Golden Classes of 1970 and 1971.
Appropriate Covid-19 protocols and safety measures will be in place, with event parking on Chalmers Avenue. The ceremony will also be video streamed live. For more information, visit htu.edu.
"The classes of 2020 and 2021 displayed unconquerable resolve, enduring a global pandemic in the completion of their academic quests," said Huston-Tillotson University President Dr. Colette Pierce Burnette.  "Having Dr. Jemison to render our Commencement Convocation address at this milepost in history is a perfect embodiment of courage and perseverance, as she overcame insurmountable obstacles to attain a global first. I look forward to her message, which I am certain will embolden our Genius Generation and all whom will witness it. We are elated to celebrate these graduates in person and bring our campus community, alumni, and friends back together."
Born in Decatur, Ala., Jemison's father was a roofer and carpenter, while her mother was an elementary school teacher. Her sister, Ada, is a psychiatrist, and her brother, Charles, works in real estate.
Jemison was raised in Chicago, where her love for science and the arts, came to the forefront. After high school, she matriculated to Stanford University on a National Achievement Scholarship, and alongside her studies was involved in dance and theater productions, was president of the Black Student Union and developed and taught classes on politics, race and education. Dr. Jemison graduated from Stanford with a B.S. in Chemical Engineering, as well as fulfilling the requirements for an A.B. in African and Afro-American studies.  She earned her doctorate in medicine from Cornell University Medical College.
Dr. Jemison lived in Freetown and served as Area Peace Corps Medical Officer for Sierra Leone and Liberia prior to her selection as a National Aeronautics and Space Administration (NASA) astronaut candidate in 1987. Jemison served six years as a NASA astronaut, and traveled to space aboard the Space Shuttle Endeavour in, 1992 as Science Mission Specialist for the STS- 47 Spacelab Japan mission where she performed experiments in material science, life sciences, and human adaptation to weightlessness.
After leaving NASA, Jemison started her own technology firm, was a professor of Environmental Studies at Dartmouth College, created The Earth We Share international science camp, and founded the non-profit Dorothy Jemison Foundation for Excellence named in honor of her mother. Jemison also leads the 100 Year Starship project that seeks to foster the radical innovations required for human interstellar space travel while applying the benefits right here on Earth every step of the way.
Jemison is a member of the National Academy of Medicine, an inductee of the National Women's, Texas Science's and the National Medical Association's Halls of Fame.  She has won numerous awards and honors and was keynote speaker at the Opening Session of the UN COP24 Framework Convention on Climate Change, and is an Honorary Member of the Alpha Kappa Alpha Sorority. Jemison is an author, including Find Where the Wind Goes: Moments from My Life, and the Scholastic "True Books" series on space exploration.  Jemison, co-host of the NatGeo series "One Strange Rock" and logistics consultant for NatGeo's docudrama series MARS, was the first real astronaut to appear on Star Trek TV series and is a mini-figurine in the LEGO Women of NASA kit. She currently resides in Houston, Texas.
For more information about 2021 Commencement Convocation, call 512.505.3006 or visit www.htu.edu.
About Huston-Tillotson University 
Huston-Tillotson University, the oldest institution of learning in Austin, Texas, has roots dating back to 1875. HT is an independent, church-related, historically black, four-year liberal arts institution located on a 23-acre tree-line campus near downtown in East Austin. Huston-Tillotson University's mission is to nurture a legacy of leadership and excellence in education, connecting knowledge, power, passion, and values. The University offers associate and master's degrees in addition to Bachelor of Arts and Bachelor of Science degrees in more than 19 areas of study.
#HTisIDEAL