Dr. Theodore Francis
Dr. Theodore S. Francis II is an assistant professor of History at Huston-Tillotson University in Austin Texas. He teaches courses on U.S. History, African American History, and Caribbean History. He is a graduate of Warwick Academy Bermuda, Morehouse College GA and the University of Chicago IL. His doctoral dissertation, "Fantasy Island: Race, Colonial Politics and the Desegregation of Tourism in the British Colony of Bermuda 1881-1961"charts the role of Black Tourism, African American tourists as well as popular protests in the process of desegregation in Bermuda in the late 1950s and early 1960s. His primary research and writing interests include: the African Diaspora in the Caribbean and Americas; historical and contemporary issues of tourism; anti-colonial movements in the Caribbean; Atlantic World slavery, resistance and post-emancipation societies.
Media Coverage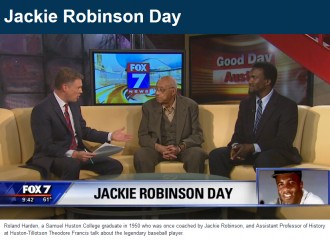 Roland Harden, age 88, a 1950 Samuel Huston College graduate played on the basketball team that was coached by Jackie Robinson. Harden shared the experience during a KLRU supported Jackie Robinson Ken Burns film screening and discussion led by HT's Assistant Professor of History Dr. Theodore Francis (pictured right).
See the FOX7 and Ken Herman, Austin American-Statesman features Info
Role: Assistant Professor of History
Phone: 512.505.3100
Email:
tsfrancis@htu.edu
Office: J-M 219