Center for Academic Excellence
Ram Training Camp 2022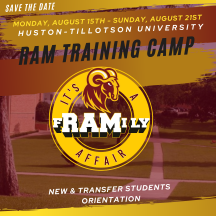 Ram Training Camp 2022
Welcome Rams!!!  All new first-year students to Huston-Tillotson University must participate in new student orientation, or as it's affectionately called Ram Training Camp (RTC). During RTC, you will meet with fellow peers, faculty and staff as you begin to develop academic and co-curricular plans while becoming familiar with campus resources.  There will be PLENTY of exciting memories made while enjoying fun-filled, festive events such as Field Day sponsored by Athletics, a true Austin-style Carnival with food trucks and activities on the yard with the city's top deejay, an old school skate party, and HT's legacy Matriculation and Freshmen Pinning Ceremony.  Fun awaits!
To prepare for a successful transition to HT, we've developed a RTC Genuislist to help you navigate your next steps. Be sure to review and complete the Genuislist before attending RTC.  Use the Canvas Student App to access the Genuislist in the RTC 2022 site!
Because of COVID-19 and the Safe and Healthy Rams protocols, the first portion of orientation programs will be virtual (Monday, August 15th) with all remaining programs, Wednesday, August 17th – Sunday, August 21st will be held in-person on HT's campus, in full compliance with pandemic safety procedures.
For a full breakdown of RTC, all new and transfer students should consult Canvas. Download the Canvas Student app today (it's FREE!) and get started with the RTC 2022 module, located on the Canvas Dashboard!!  Click here for a step-by-step tutorial on how to get started with Canvas.
Important:  All students living on campus must receive confirmation from Residence Life to move-in.  Email reslife@htu.edu.  Meeting COVID requirements is a MUST prior to further RTC participation.