President's Book Club

About the President's Book Club
The President's Book Club was founded in 2020 by President Colette Pierce Burnette in partnership with the Downs-Jones Library. Its goal is to bring the Huston-Tillotson community together by creating common ground and shared experiences, and to promote a love of reading by introducing participants to books that encourage and inspire. Participation is free and open to all members and friends of the Huston-Tillotson University community.
A Message from President Colette Pierce Burnette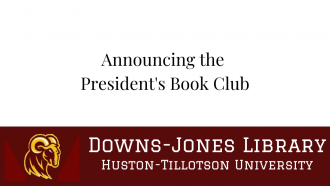 click to watch on YouTube
Our Book
This year (Fall 2020 – Spring 2021), we are reading More Than Enough: Claiming Space for Who You Are (No Matter What They Say) by Elaine Welteroth
About More Than Enough: Part-manifesto, part-memoir, from the revolutionary editor who infused social consciousness into the pages of Teen Vogue, an exploration of what it means to come into your own—on your own terms

Throughout her life, Elaine Welteroth has climbed the ranks of media and fashion, shattering ceilings along the way. In this riveting and timely memoir, the groundbreaking journalist unpacks lessons on race, identity, and success through her own journey, from navigating her way as the unstoppable child of an unlikely interracial marriage in small-town California to finding herself on the frontlines of a modern movement for the next generation of change makers. 

Welteroth moves beyond the headlines and highlight reels to share the profound lessons and struggles of being a barrier-breaker across so many intersections. As a young boss and often the only Black woman in the room, she's had enough of the world telling her—and all women—they're not enough. As she learns to rely on herself by looking both inward and upward, we're ultimately reminded that we're more than enough.

New York Times bestseller

Winner of the 2020 NAACP Image Award for Outstanding Literary Work – Biography/Autobiography

About Elaine Welteroth: Elaine Welteroth is a New York Times bestselling author, award-winning journalist, producer, and former editor-in-chief of Teen Vogue. In 2017, Welteroth broke new ground as the youngest person and the second African-American to ever hold this title at a Condé Nast publication. She has been credited for reinventing the magazine as the go-to source for socially conscious young people.

Prior to Teen Vogue, she held senior editorial positions at Glamour and Ebony. Her writing appears in The New York Times, British Vogue, and The Hollywood Reporter. She has written for the hit show Grown-ish and has appeared on-camera for a range of media outlets including ABC News, Netflix, and Bravo's new Project Runway where she appears as a judge. She has also taken on the role of cultural ambassador for Michelle Obama's organization When We All Vote, a non-partisan voting initiative that aims to increase voter turnout, particularly among young people, women, and people of color. She resides in Brooklyn with her husband.
How to Join
The President's Book Club is open to all Huston-Tillotson University students, faculty, staff, and alumni, and friends of Huston-Tillotson University.
Copies of More Than Enough are still available! To join the President's Book Club and get an e-copy of this book, click here and the Downs-Jones Library will contact you to confirm your registration.
Book Club Meeting Dates
November 12, 2020, at 4 PM Central Time (discussing Chapters 1-11)
March 4, 2021, at 4 PM Central Time (discussing Chapters 12-24)
Sign up today to join the discussion and enjoy a great book with the President's Book Club!