Dr. Colette Pierce Burnette Installed as HT's Sixth President
Thursday Nov, 05 2015
Dr. Colette Pierce Burnette Installed as Huston-Tillotson University's Sixth President

 (AUSTIN, Texas) 11.8.15 — The Inauguration Convocation for Colette Pierce Burnette, Ed.D., was held Saturday, November 7, 2015, at 10 a.m. on the campus in King-Seabrook Chapel. The Huston-Tillotson University Board of Trustees announced Pierce Burnette as the institution's sixth President and Chief Executive Officer, effective July 1, 2015.  Pierce Burnette becomes the first female president of the merged Huston-Tillotson University and only the second female president in the institutions' 140-year history. Four-days of inauguration activities to welcome the new president and share in the celebration of the institution's music, faith, and community components were held.
Pierce Burnette is an experienced leader in higher education with a deep commitment to student success. In 2012, Pierce Burnette served as interim President at Pierce College in Puyallup, Washington, leading the college within a district environment and working collaboratively with executive leadership to serve more than 30,000 students each year. Pierce Burnette had an extensive career at Central State University in Wilberforce, Ohio, from 1999 – 2012 that scaled to Vice President for Administration and Chief Financial Officer, providing financial, analytical, physical plant, auxiliary services, capital construction, and human resources leadership to achieve mission-based goals. In addition, at Central State University Pierce Burnette served as Vice President for Information Technology and Chief Information Officer.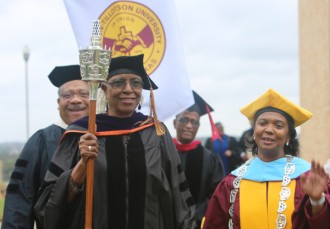 Her educational accomplishments include earning a Master of Science Degree in Administration with honors from Georgia College in Milledgeville in 1983 after completing a Bachelor of Science Degree in Industrial and Systems Engineering from Ohio State University in Columbus in 1980. In 2003, Pierce Burnette was accepted and completed the Harvard Graduate School's Education Management Development Program. Pierce Burnette recently completed an Ed.D. in Higher Education Administration at the University of Pennsylvania.
Inauguration events were as follows:  On Thursday, November 5 at 7 p.m. the Step Afrika company performed in King-Seabrook Chapel.  Step Afrika was founded in 1994 as the first professional company dedicated to the tradition of stepping.  Stepping, developed by African American college fraternity and sorority members in the early 1900s, remains a popular form of expression and entertainment today. Step Afrika now ranks as one of the top ten African American dance companies in the United States. Dancers perform South African gumboot, Zulu, as well as high energy step routines.
On Friday, the Huston-Tillotson University Concert Choir, under the direction of Gloria Quinlan; the Elite Combo, under the direction of Javier Stuppard; pianist and organist Stephen Burnaman; guest pianist Jenny Cruz, from Central State University; composer Roland Carter; and bass baritone Donnie Ray Albert performed exciting, thrilling notes of optimism as a musical tribute to the President. Cruz received her bachelor's, master's and doctoral degrees from Indiana University-South Bend, Manhattan School of Music, and University of Cincinnati-College Conservatory of Music, respectively. Cruz has worked with the Boys Choir of Harlem School and taught at the University of Cincinnati and Xavier University. She has played on the international stage including recitals in Israel, the Czech Republic, Guam, Italy, Serbia, and in many cities in the United States. Carter is a distinguished composer, conductor, educator, and pianist. Albert is a regular guest of opera companies and symphony orchestras around the world.
Saturday's inauguration events included the Investiture at 10 a.m. and the Inauguration Gala.  Austin's popular Blue Mist band known for their heart and soul and rising blues stars, the Peterson Brothers, highlighted the Gala, scheduled on Saturday, November 7 at 6 p.m. at the Sheraton Austin at the Capitol, 701 East 11th Street. The black-tie affair included dinner, dancing, and an auction.
The inauguration celebration opened with a 11th Street Beautification project and closed with a worship service on Sunday, November 8 at 10:30 a.m. at David Chapel Missionary Baptist Church, 2211 E Martin Luther King, Boulevard, where the Rev. Joseph C. Parker, Jr. serves as the pastor.  The worship service also featured the HT concert choir.
Inauguration Invitation

Sponsors
Maroon Sponsor

Crystal Sponsor
Fine Arts Sponsor
Rams Sponsor

The Pierce Burnette Family