HT Team Qualifies for the Honda Campus All-Star Challenge
Saturday Mar, 21 2015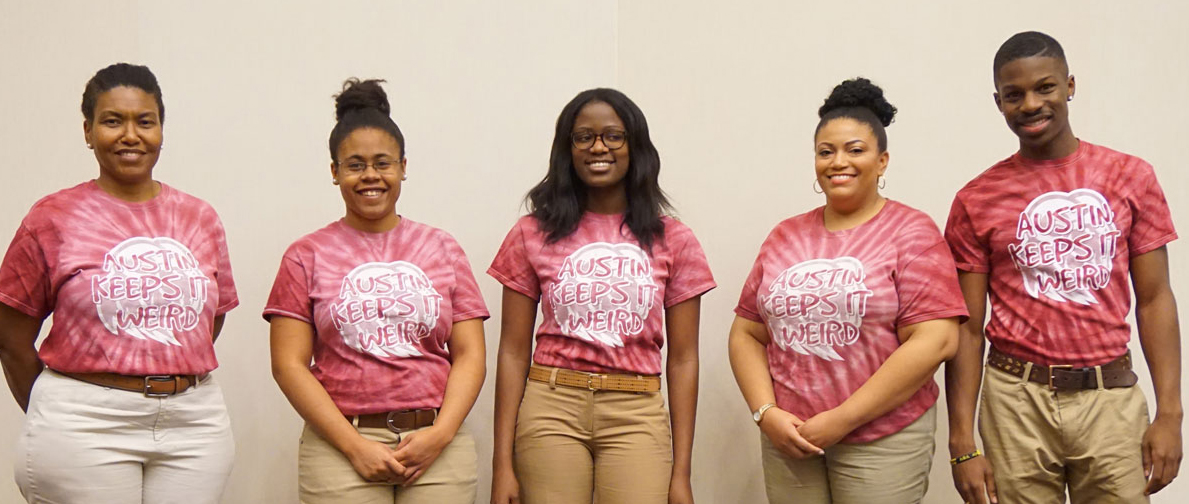 (AUSTIN, Texas) 3.10.15 — Completing a hard-fought journey that began in the fall, the team representing Huston-Tillotson University qualified to enter the Honda Campus All-Star Challenge (HCASC) National Championship Tournament to be held March 21-25, 2015 in Torrance, California.  Now in its 26th season, HCASC is a unique academic competition that showcases the academic prowess of the best and brightest students from America's Historically Black Colleges and Universities (HBCUs). 
With 76 HBCUs vying for a spot in the Nationals, teams competed in seven qualifying tournaments held in late January. Approximately 48 teams emerged from the group, including HT, earning the opportunity to compete for the title of "National Champion" and a $50,000 institutional grant from Honda.
Team HT is comprised of Captain Lucyll E. Freeman, Arsenio P. Brown, Andranique L. Green, Lynn G. Nanjala, and representative Brittany R. White. Dr. Alaine S. Hutson, Associate Professor of History, will coach the team.
The 2015 National Championship Tournament will be live-streamed on Monday, March 23rd starting at 12:00 ET on HCASC.com and other websites.
For more information on the 2015 HCASC, including a full list of the 48 qualifying teams, visit www.hcasc.com.  Connect with HCASC via social media for updates on Facebook (www.facebook.com/HCASC) and Twitter (www.twitter.com/HCASC), using #HCASC.

About Huston-Tillotson University
As a historically black institution, Huston-Tillotson University's mission is to provide opportunities to a diverse population for academic achievement with an emphasis on academic excellence, spiritual and ethical development, civic engagement, and leadership in a nurturing environment. The University offers associate and master's degrees in addition to Bachelor of Arts and Bachelor of Science degrees in more than 20 areas of study.
About Honda Campus All-Star Challenge:
Celebrating HBCU excellence, Honda Campus All-Star Challenge is one of Honda's largest and longest running philanthropic initiatives in the United States.  Since 1989, the program has awarded more than $7.5 million in grants to participating HBCUs, impacting the lives of over 100,000 students across 22 states.  The participating HBCUs share in grants from Honda of up to $328,000 each year.  HCASC's impressive roster of past participants includes engineers, lawyers, doctors and professors.  A number of high profile former HCASC participants have been inducted into the HCASC Hall of Fame, including Clark Atlanta University alumnus and ESPN anchor, Bomani Jones, who participated in two HCASC competitions between 1999 and 2001, serving as team captain in 2001.
For more information, contact:
Thomas Cunningham, Honda Campus All-Star Challenge: 800.388.2272 x105 / tom@hcasc.com
Matt Sloustcher, Honda North America, .310.357.5711 / matt_sloustcher@hna.honda.com
Linda Y. Jackson, HT's Director of University Relations / 512.505.3006 / lyjackson@htu.edu