Greetings from the Huston-Tillotson University Faculty
Friday Sep, 05 2014
Greetings from Faculty, President's Opening Convocation 2014
Katherine Durham Oldmixon, Ph.D., M.F.A.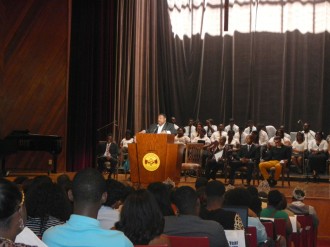 On the Sacred Work of Learning
It's no wonder to me that Labor Day is the first holiday of the academic year.  We pause, one week in, to acknowledge the sanctity, the necessity of work—the work of the hands, of the body, the work of the spirit, and the work of the mind.  All work is sacred, because it is how we move forward and transform as individuals and as a people.
Faculty work is so often misunderstood, so often underestimated.  What the outsider sees is the proverbial tip of the iceberg—the hours spent in the classroom.  What is missed is that great bulk of ice formation that carries us, the hours of research and preparation, of planning and strategizing, of responding and assessing and reflecting.  A professor compresses a year's work into nine months, the period of gestation.
And this mystical compression of time is no different for successful students.  For what is the key to student success?  Work, sacred work.  Investment in your own future, in your own education.  For every hour you spend in class (alert, prepared and participating), you, the successful student, (and every one of you has the option to be successful, if you so choose) has spent at least three hours – reading your textbook, researching, doing homework, writing papers, studying for quizzes and exams, collaborating and designing projects, meeting with your professors. 
Here's the ironic truth: if you're not working—if it comes easy—you're not learning.  You're not stretching, you're not growing; you're not challenging yourself or being challenged.
Here is the good news: while we your professors are your primary resources, you are in control of your learning.  Do the sacred and ecstatic work of learning, and you will be successful; in fact, you will be transformed.  You must invest in yourself, in your education.  Even as you juggle a job and a personal life (just as faculty do) you must make education your priority—and you must work for it—not just for your diploma, but for the expansion of your mind, of your spirit, of your whole being.
Many people worked to bring you here—families, communities, historical cultures. You, yourself.  Don't rest on your past successes nor on the shoulders of those who believe in you. Rise. And raise up those around you and those coming behind you.
It will not be easy.  While your talents and tastes may drive your passions, learning is not about IQ or talent or natural ability.   You learn when your knowledge expands in areas previously unfamiliar.  You learn when you develop new skills, as well as hone the old.   Most importantly learning is about work, sacred work: what we all can do. That's what we're here for.
So, let's get to work.