Bishop E. T. Dixon Lecture
In January 2008, the Center of Religious Life and Campus Ministry instituted the Bishop Ernest T. Dixon Lecture. The lecture was named after the late Bishop Ernest T. Dixon, the first African American Bishop and only to date named to the Southwest Texas Annual Conference of The United Methodist Church. Bishop Dixon is also a graduate of Huston-Tillotson University and prior to his retirement, served on the institution's Board of Trustees.
2014 Lecturer
The Reverend Bridgette Young Ross
(Assistant General Secretary for Collegiate Ministry)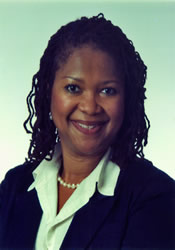 Topic: "Vocare: The Art of Listening for Divine Calling in Work and Life"
"Discovering vocation does not mean scrambling toward some prize just beyond my reach but accepting the treasure of true self I already possess." –Author and Teacher, Parker J. Palmer
As creations of God, we are divinely and uniquely shaped.  Seeking the meaning and relevance of our lives is an ongoing journey that begins when (or before) most of us are asked what we want to be when we grow up.  How do we explore who we are created to BE, and recognize that as the foundation of what we are called to DO in the world?
E.T. Dixon Lecturers Chronological Listing
(2013 – 2008)
Dr. Albert Mosley
January 31, 2013
Topic: "Let's Talk About Sex, Baby: Human Sexuality and the Black Church Experience"
President of Gammon Theological Seminary in Atlanta, GA,
Dr. Herbert Marbury
January 26, 2012
Topic: The Joshua Generation: Hope of the Black Church
Prof. Old Testament, Hebrew, Biblical Hermeneutics, and Black Religion, Vanderbilt University
Dr. Rodney Smothers
January 27, 2011
Topic: "Reclaiming Our Prophetic Voice: Learning, Leading, and Launching New Faith Based Networks"
Lead Pastor for the St. Paul UMC, In Oxon Hill Maryland
Dr. Valerie Bridgeman
Jan. 28, 2010
Topic:  "Hip Hop and the Preacher: A Cultural Reading of the book of Ecclesiastes."
Associate prof. of Hebrew Bible, Homiletics and Worship, and Scholar in Theology and the Arts at Lancaster Theological Seminary
Reverend Marilyn E. Thornton
January 29, 2009
Topic: "Singing, Telling, Writing the Story: African American/Biblical Connection."
Musician, Storyteller, Educator, and Pastor
Reverend Dr. Cain Hope Felder
January 31, 2008
Topic: "African American in the Bible"
Prof. of Old Testament studies, Howard School of Divinity; Author, "Stony Road We Trod"