Career & Graduate Development
Class of 2013
Announcements
Commencement DVDs are in the final editing stages and will be mailed soon.
Message To All - A link to Commencement Day photos captured by Keep it Digital are below - this includes the photos of graduates crossing the stage.
To purchase photos visible on the website - Click the "Buy" button visible in the upper-right corner of the screen while viewing the photos via computer ("Buy" button may not be visible while viewing on a mobile device).  As needed you can call Keep it Digital directly to place your order (make note of the photo numbers (bottom of page) that you are interested in if you will place your order via phone).
Message to those who ordered (and paid for) your Keedjit™ Diploma:  
Most of the Keedjit™ Diplomas have been completed and a proof e-mail has been sent, many of you have approved your proof and your order is now in process of being delivered to you (Thank you!).
Several of you we have sent a proof but have not received your approval response.  We need your approval of the proof before we finalize your order so check your e-mail for a proof e-mail from "Mike_McLennan@keepitdigital.com".  
Feel free to contact us for status of your Keedjit™ Diploma as needed if you have not received a proof e-mail.
Message to those who took a photo for the Keedjit™ Diploma with us but did not purchase/pay OR are now interested in ordering a Keedjit™ Diploma (it is not too late):  
If you are interested in ordering your Keedjit™ Diploma, feel free to let us know.  We do not proceed with completing the order, nor proof until an order is received so you must contact us to initiate your order or you can place your order online at (Keepitdigital.com).
Thank you all and Enjoy the photos from your Commencement Ceremony below.  Feel free to share this link with your fellow graduates.  We will also be sharing a link to the photos on our Facebook page ( http://www.facebook.com/keepitdigital ) so feel free to follow use there.
___________________________________________________________________________
HT 2013 Commencement
Photos and Keedjit™ Diplomas provided by Keep it Digital® - Your Memories Made Better!
To view - Click Here
If the link above is not active, copy and paste the following into your web browser:
http://keepitdigital.smugmug.com/Colleges-Universities/Huston-Tillotson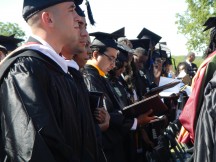 What Are HT Graduates Doing?
Solomon Phungwayo captured first place in the chemistry category during the 68th Annual Joint Meeting of Beta Kappa Chi Scientific Honor Society and the National Science Institute competition. Originally from Soweto, South Africa, he plans to obtain a master's degree in nuclear engineering in order to continue work already started in the field to earn the funds to pay for medical school. 
Jamenequa W. Ben. As she pursues a graduate degree, she plans to increase her knowledge of project management through programs such as Oracle Primavera P6 Professional Project Management. After graduate school, Jamenequa will work with families on their quest to achieve financial security.
Sammy Mudede graduated with highest honors.  He has been accepted into the recognized Carnegie Mellon University in Pittsburgh, Pennsylvania, to earn the master's degree in computer science.  He will return to Boston Scientific Corporation in St. Paul, Minnesota for a second summer as a software engineer intern before moving on to graduate school.
Pamela E. Carias is considering several job offers, including one from a local hospital, a governmental agency, and a corporation. 
Stefan Spears will graduate with a double major in Computer Science and Mathematics.  Following graduation, Stefan plans to obtain a graduate degree in geophysics.
Dikibujiri Diri plans for post-graduation study include earning a master's degree in either Environmental Biology or Microbiology. Her future career plans include working for an environmental agency in Nigeria.
Job Prospects
 To be successful in your job/career search, it is important to do your "employer homework". You must determine "who the employer is?", "what the employer does?" and "how good the employer is at doing….?"
This step will allow you, the job seeker, to know what to tell the employer in a focused cover letter and during the interview, what you can do for them today.
Did you register your résumé for job prospects?
Visit www.myinterfase.com/htc/student.  If registered, type in username and password.  If not registered, follow registration and résumé upload instructions on page two.  Contact Mr. Paul Leverington at cgd@htu.edu if you have forgotten your username and password.
Complete This Information to Become an Official HT Alumni
Please help us keep your alumni profile information up-to-date and accurate! Taking the time to fill out the information below will help us keep track of your personal and professional milestones such as a promotion at work, new baby, career change, etc.