President's 2014 MASKED Scholarship Gala
President's 2014 MASKED Scholarship Gala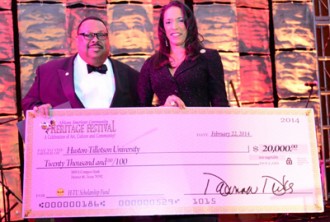 Thank you HT Supporters
AN EVENING OF DISCOVERY, CELEBRATION, AND SUPPORT AT AUSTIN'S OLDEST INSTITUTION OF HIGHER EDUCATION
On behalf of our students and the entire HT Family, we would like to say thank you to all who came out to support our 11th Annual President's MASKED Scholarship Gala. 
Because of you, we have opened new doors of opportunity for many of our students who stand in need of financial assistance.  Many more students will now be able to continue their pursuit of attaining a college degree and making their dreams a reality.
With your help we raised more than $300,000 in scholarship support
for the talented and deserving students of
Huston-Tillotson University.
While the MASKED (Mankind Assisting Students Kindle Educational Dreams) Scholarship Gala represents our formal night for celebrating our students and fundraising efforts, the campaign to secure critical scholarship support for our students is far from over.  More than 95% of HT students rely on support from folks like you each and every year.
Considering this persistent need, we will continue with our scholarship fundraising campaign through the end of the semester in an effort to reach our scholarship goal of $500,000.  We encourage you to tell your friends about the great work ongoing at HT and the determination of our students. 
HT's Campaign to Raise Critical Scholarship Dollars Continues

Click the link below to boost your current impact and forward to others who may desire to help provide opportunities for HT students.
Gala Messages and Videos