Institutional Advancement
Development
Annual Giving
Annual Giving directly supports teaching, learning, and discovery at Huston-Tillotson University (HT). Annual Fund gifts go where the need is greatest and are the most important kind of giving to Huston-Tillotson. Through the Annual Fund, alumni and friends of HT are asked to make regular, yearly gifts at whatever level is appropriate for them. Your contribution helps to bridge the gap between the cost of educating students and changes in state and federal funding. When you support the Annual Fund, you allow Huston-Tillotson University to award more financial aid, support programs, and make improvements to campus facilities.

In recent years, Huston-Tillotson University has experienced its highest Hispanic enrollment since the merger in 1952. We attribute this increase in diversity to several factors: a heightened awareness of what HT has to offer to both traditional and non-traditional students of all races, religions, and ethnicities; an affordable quality education; a dedicated faculty that has our students' best interests at heart; and a legacy filled with a rich history, astounding accomplishments, and Christian values.
The diversity of our student body is only a small measure of how far Huston-Tillotson has come. The number of students now attending the historic university is at an all time high and we are celebrating what that means for our future. How far we can go depends on you; we are counting on financial support from our donors, alumni, and friends to continue our success.
On behalf of our President, students, faculty, staff, and Board of Trustees, thank you for your dedication to Huston-Tillotson!
For a closer look at the Quarterly Report, please click on the links below.
Class Reunion Gift Campaign

Your class reunion is a very special time – a time to return to campus, reunite with old friends and perhaps reconnect with a favorite professor. It is a time to remember your earlier years and reflect on everything that you have gained from your time spent in the classrooms, on the playing fields, and in the residence halls of the University. It is a time to come back and most importantly, an opportunity to give back!
Many of your experiences at the University were the direct result of generous people who came before you. We thank all of you who have returned the favor by contributing generously year after year to help maintain the excellent programs at Huston-Tillotson. In your reunion year, we encourage you to give generously to help future generations of alumni. Your donations will help to support a special gift to represent your class. This gift will be presented to the President at the reunion weekend alumni banquet.
A monetary donation is not the only way to give back to your alma mater; your time is also an invaluable asset. The Class Planning Committee determines what activities will encourage classmates to return and participate in reunion events.
Naming Opportunities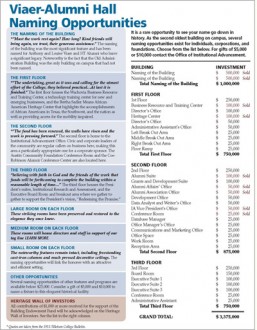 An array of possibilities exists at Huston-Tillotson University for donors interested in naming opportunities. Namings can occur in recognition of gifts of treasure, time, talent, and commitment to and in support of Huston-Tillotson. A named gift opportunity sends a strong message to our students and campus visitors. An individual, business or organization has loaned its name to the University's effort to provide quality, accessible education and training to all who can benefit from our programs and services.
We invite you to consider the wide variety of opportunities, and help the University address current needs and prepare for the challenges of the next century. The financial requirements for naming opportunities differ, and donors are encouraged to discuss their ideas with the Institutional Advancement Office.
Anthony and Louise Viaer-Alumni Hall
Click the image to the left to view the Anthony and Louise Viaer-Alumni Hall information to find out about our existing naming opportunities. Donors are encouraged to work with Institutional Advancement to create other naming opportunities that might be more closely aligned with their special areas of interest. All namings are subject to Huston-Tillotson University President and Board of Trustees approval.