Institutional Advancement
Annual Giving
What is the Annual Fund?
The Annual Fund is the foundation of Huston-Tillotson University's fundraising program. Its monies are unrestricted and used to meet the University's most crucial needs annually.
The Annual Fund supports the mission of the University by introducing alumni, parents, friends, faculty, and staff to the importance of giving yearly to enhance programs and assist in the daily operations of the University.
Huston-Tillotson University Gift Levels
The Office of Institutional Advancement is using the thermometer on this page to monitor our fundraising progress. The more you give, the higher the mercury rises! Check the page regularly to measure our success. Thank you for your support of HT.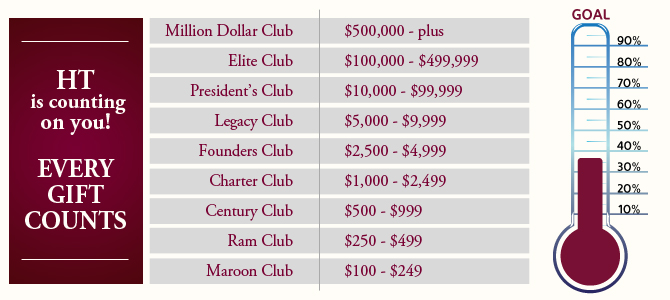 Matching Gifts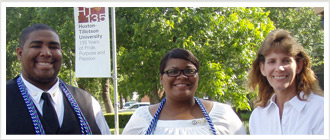 Many alumni and friends can increase the impact of their contributions to Huston Tillotson University by taking advantage of a matching-gift opportunity. Many corporations offer their employees the benefit of a matching gift program. If you or your spouse works for a matching-gift employer, you may be eligible to have all or a portion of your gifts to HT matched. These matching funds increase the positive impact that your contributions have on our students.
To initiate a matching gift, complete your employer's matching gift form and send it along with your gift to Huston-Tillotson University. Institutional Advancement staff will complete the form, certifying that the University is eligible to participate in your company's matching program and that it received your gift. The University will then send the form to your employer, who will verify eligibility and send the matching funds to the University.
All corporate matching programs have their own policies; therefore, you should make inquiries with your employer's personnel department to see if your gift qualifies for a corporate match.
Giving Clubs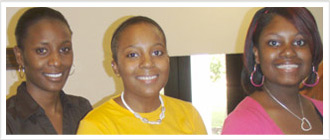 All supporters of Huston-Tillotson University (HT) assure the margin of excellence through their gifts. The supporters may serve as mentors and advisors to HT students, faculty and staff. Unless they request anonymity, all supporters are recognized on our giving clubs annual donors' list published in the President's annual report and RAM Magazine. Special naming and commemorative opportunities exist for our largest donors.
Nine giving club categories at HT each provide avenues for our constituents to give consistently and generously to the University. The following table will illustrate the gift levels.
Huston-Tillotson Family Fund Campaign
Huston-Tillotson is Counting on You!
The Huston-Tillotson Family Fund is the University's internal giving campaign for faculty and staff. Through this campaign, you can designate and contribute funds to help the University reach its long-term funding goals. It is a program committed to continuously improving the University!
Your Contribution Creates Opportunities
Your annual contribution will directly support the campus community by strengthening academic programs and funding capital improvements, scholarships, fellowships, and collaborative partnerships.
Every Gift Counts
We need your support and leadership now more than ever! Our goal is to have 100% participation in the Huston-Tillotson Family Fund and provide funding to support HT's future.
Make a commitment to the Huston-Tillotson Family Fund Campaign today!
Every gift to the Family Fund counts and makes a difference. Your pledge is your promise to support the University and future generations of leaders. Our commitment to Huston-Tillotson's future depends on your commitment to honor your pledge.
Scholarships
Huston-Tilltoson University has a variety of scholarships for students based upon the criteria you establish. We invite you to discuss the type of scholarship that you would like to create for deserving students.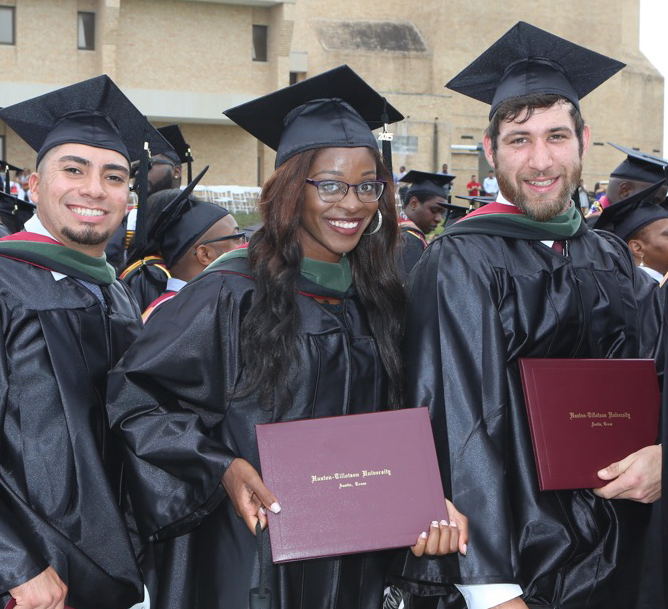 To schedule a scholarship appointment, contact:
Vice President for Institutional Advancement
900 Chicon Street
Austin, TX 78702
512.505.3073