Institutional Advancement
The Possibilities Start Here.
When you give to the Huston-Tillotson University, you become a stakeholder in the successes and innovations of our students, faculty, and community. Your gifts support teaching and learning, and help HT transform students into leaders whose impact is felt across world.
Join us in our mission by making an investment in Huston-Tillotson University. Whether you give through the annual fund, establish an endowment, or help update our facilities, you help unlock the potential of our students, faculty, and campus.
Thank you to our alumni, friends, parents, and corporate and foundation partners who already help us to make Huston-Tillotson University a place that nurtures a legacy of leadership and excellence in education.
Get In Touch.
The Institutional Advancement staff looks forward to meeting you.
Ms. Angela Hall Watkins
Vice President for Institutional Advancement
512.505.3070
Ms. La Juana R. Sanford
Director of Alumni Affairs
512.505.3074 lrsanford@htu.edu
Director of Public Relations and Marketing
Vacant
512.505.3072
Make A Difference, Give Back to HT
Your gift of any size makes a difference to us. There are many convenient ways to make a gift.
By Mail
If you prefer to mail your gift, please make your check payable to Huston-Tillotson University and send to the following address:
Huston-Tillotson University
Institutional Advancement – Annual Fund
900 Chicon Street
Austin, Texas 78702-2795
By Fax
If you prefer to make your gift by fax, please complete the printable form with your credit card number, and fax it to 512.505.3196.
By Phone
To make a gift by telephone, please call 512.505.3073 Monday – Friday between 9:00 a.m. and 5:00 p.m. CST. Huston-Tillotson accepts MasterCard, Visa, Discover, and American Express payments over the telephone.
Giving opportunities.

#HTThankYouThursdays is a new Huston-Tillotson giving campaign that will occur on the first Thursday of the month, to encourage thanks through giving.  HT thanks all of its alumni, faculty, staff, students, friends, and family for all that they do to contribute to the university.  Your gift counts, no matter how big or small.
So here is how you can help.  Share all of our #HTThankYouThursdays social media posts with everyone that you know. Use #HTThankYouThursdays and ask that they visit our web and social media pages to click on the #HTThankYouThursdays image to give HT.  Tell us about your giving by sharing your images and posts and why you would like to thank HT.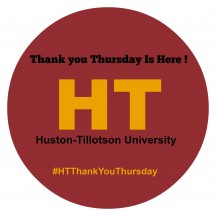 Tom Joyner Foundation School of the Month Campaign