Alumni & Friends

We want to know! Did you recently change careers, get a promotion, have a baby or get married? Drop us a line and keep us updated. Submit your news to us at alumni@htu.edu. 
Chapters
There is a Huston-Tillotson University alumni chapter located in nearly every major city in the country. Find the chapter nearest you by clicking here.
Find HT on Myspace, Facebook,LinkedIn, Twitter, and YouTube
The MySpace, Facebook, LinkedIn, Twitter, and YouTube sites above are directed to official HT sites that are managed by University personnel.  Huston-Tillotson University does not manage The Ram Shack site and is not responsible for messages nor content affiliated with the site.  
Photo Gallery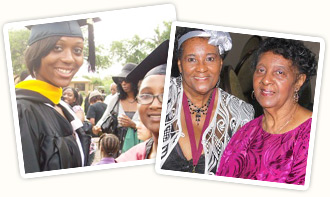 We love to show you all the great events that make Huston-Tillotson the great University that it is. See pictures of our Alumni, commencement ceremonies, and other events!
Take a moment to view photos of friends, family, and other familiar faces!