School of Business and Technology
Dean's Message
On behalf of the faculty and the staff of the School of Business and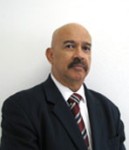 Technology at Huston-Tillotson University, I am pleased to welcome you to our Website. We are an innovative, enterprising, and forward-looking school committed to preparing students of diverse origins and backgrounds to follow their career paths in this global business environment. We place considerable emphasis on excellent teaching and attention to the academic, personal, and professional development of our students.
Our students come from around the world; therefore, our curriculum is continuously evolving to meet the demand of the business and technology industries in both the domestic and global arenas. We have integrated the newest instructional technology into our curricula and the classrooms are equipped with the latest technology hardware.
We offer a low student-faculty ratio. The average class size is 15 and very few class sizes exceed 20 students. All of our full-time faculty members have terminal degrees (Ph.D., D.B.A., J.D., C.P.A.) as well as practical experience in their areas of expertise. With such a highly qualified faculty and with such a personalized environment, our students receive a first-class education.
We are dedicated to achieving academic excellence in the School of Business and Technology.  So join us for a unique educational experience.

Steven Edmond
Dean, School of Business and Technology
Huston-Tillotson University