Feb. 5-11 Homecoming Week "Come Home and Rediscover HT"
Sunday Feb, 05 2012
Save the Date
 Are you ready to come home?  Show your Ram pride, see your friends, and support your alma mater!  Please continue to check the website for updates on Homecoming weekend events as the details unfold.
"Come Home and Rediscover HT" Join in the excitement of Homecoming 2012. Below is a compilation of events/activities. For more information, and more details, visit the HT Alumni Page Web Site.
Future home of HT's homecoming celebrations.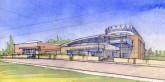 Homecoming Hotel Information

The Holiday Inn Austin Midtown is the Homecoming 2012 host hotel.  The newly renovated property is located at 6000 Middle Fiskville Road, Austin, TX 78752.  A group rate of $79 is available for Homecoming attendees. Code: HTH.
Worship at Saint James Episcopal Church
Sunday, Feb. 5
10:15 a.m. – 12:00 p.m.
1941 Webberville Road
Austin, TX 78721
Rector Reginald (Reggie) Payne-Wiens and members welcome all Huston-Tillotson University graduates and guests to the morning homecoming worship.
HT Spirit Day
Monday, Feb. 6
All Day
Run to your closet and pull out your finest HT attire for spirit day.
Official 2012 Homecoming
"Come Home and Rediscover HT" T-Shirt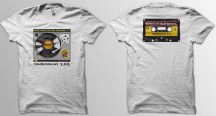 Select the icon to order your official HT Homecoming T-shirt designed inspirited by a fellow Ram Student and created by RURAK ROOSTER. Cost $15 each. The T-shirts are now SOLD OUT.
Rammy Award Nominations
Monday, Feb. 6
11 a.m.
Davage-Durden Student Union
Students can't wait to welcome alumni and friends back to campus. Relish in the HT spirit. Rammy voting on Feb 6, beginning at 11 a.m.
Paint the Town
Tuesday, Feb. 7
7 p.m.- Until
Davage-Durden Student Union
Paint the Town starts at 7 p.m. in the Davage-Durden Student Union.
Wild Out Wednesday Freestyle Battle and Talent Show
Wednesday, Feb. 8
11 a.m. and 7 p.m.
Davage-Durden Student Union
Come out and support your fellow Rams as they compete on HT's Wild Out Wednesday. Stay for the newly HT reinvention dating game located in the Davage-Durden Student Union at 11 a.m. Get your band ready and bring your talent to these two homecoming activities. Talent Show starts at 7 p.m. located in the King-Seabrook Chapel.
Alumni Chapel Service
Thursday, Feb. 9
11 a.m.
King-Seabrook Chapel
Come out and worship with your fellow Rams. A family that worships together, stays together.
Pep Rally and Alumni Career Presentation
Friday, Feb. 10
11 a.m.
HT Campus
Alumni look for the sign up information as we invite you to share with students "How HT Prepared Me For My Career" presentation. The men's and women's basketball teams will stop by during the pep rally in the Davage-Durden Student Union.
Homecoming Luncheon
Friday, Feb. 10
11:30 a.m. – 1:30 p.m.
Davage-Durden Student Union Cafeteria
It's a tradition that continues. Catfish and all-you-care-to eat for $6.25. Have lunch with your former professors and visit with staff. You will feel right at home.
Tailgate/Barbecue
Saturday, Feb. 11
6 a.m. – 10:30 p.m.
HT Campus
Homecoming just is not homecoming without a tailgate party. Get ready to show off your culinary skills at the annual tailgating party. Plan to set up early to select your desired spot on campus. First come, first served bases only. Free admission. Contact Ashley Smith, Media Specialist and Special Events Coordinator, to get your tailgating permit information.
Reminisce Lodge
Saturday, Feb. 11, 2012
10:00 a.m. – 10:30 p.m.
Davage-Durden Student Union
Alumni come home and rediscover your fondest  memories here at Huston-Tillotson University in the Reminisce Lodge. Live basketball game footage will be available. Free admission.  
Flash Mob: Wobble (ft. DJ Hella Yella)
Saturday, Feb. 11
4 p.m.
HT Campus
An event you don't want to miss.
Huston-Tillotson University's Homecoming 2011
Saturday, Feb 11
Women's and Men's Basketball Games
5:30 p.m. and 7:30 p.m.
Mary E. Branch Gymnasium
*** No ticket sales the day of the game****
This is definitely a cannot miss event. Come see the women, second year head coach Tanesha Barefield, and the men, second year head coach Elwood Plummer, as they compete against the Wiley Wildcats. Plan to stay between the games for the king and queen and royal court announcements. Stop by the bookstore for a few HT items before heading to the game.
Tickets
Tickets for the basketball game are $10 for adults, $7 for children ages 7-18 and may be purchased on campus at the Business Office. To order tickets by telephone call 512.505.3068 between the hours of 8:30 a.m. and 4:30 p.m. You may leave a message at 512.505.3065 with your name, address, and telephone number for a call back. Individuals placing telephone orders must make arrangements to pick up tickets prior to the game. Tickets will not be mailed,  or sold the day of the game. No ticket can be placed on hold or reserved. Tickets will go on sale Wednesday, January 11, 2012.
Parking and Overflow
Plan to arrive early to park in the Chalmers lot. The overflow broadcast for the game is available in Agard-Lovinggood Auditorium for the first 100 spectators. Snacks and drinks available for purchase.