Friday Mar, 07 2014
Huston-Tillotson University's Eleventh Annual
President's Mankind Assisting Students Kindle Educational Dreams
Scholarship Gala
Secures Financial Support for Deserving Students 
(AUSTIN, Texas) 3.7.14 — The interaction between donors and students at Huston-Tillotson University's Eleventh Annual President's Mankind Assisting Students Kindle Educational Dreams (MASKED) Gala evoked pride and passion during the evening with many highlights to underscore the purpose of the gathering in support of higher education.  Texas State Senator Royce West, who brought greetings by video, served as the Honorary Chair of the black-tie affair held March 1.
Pioneer and long-standing Austin beloved citizen Dr. W. Charles Akins received the University's Tower of Light Award before a capacity crowd gathered to enjoy an evening of dining, dancing, and entertainment. Grammy-Award nominee, rhythm and blues, and neo-soul performer Raheem DeVaughn electrified the audience with this energetic performance.  Celebrity guest Thomas Joyner, Jr. brought greetings on behalf of his father, Tom Joyner, who is a syndicated radio host who has advanced the cause of financial support for college bound African Americans.  Finally, the popular Parade of Mask competition brought out the playfulness and competitiveness among the contestants before the student judges selected the winners.
"I extend a hearty appreciation to the Central Texas community, national contributors, and loyal donors for their support of the Huston-Tillotson scholarship gala," said President and Chief Executive Officer, Larry L. Earvin, Ph.D. "The financial return of this signature UNCF event benefits the University, advances HT programs and services, and allows us to spotlight the accomplishments of graduates like Dr. Akins."
Akins, a 1954 graduate of Huston-Tillotson, was raised in segregated Austin as the son of sharecroppers.  He was the first African American teacher at Austin's desegregated Johnston High School, served as assistant principal at his alma mater, old Anderson High School, and was the first principal of West Austin's new L.C. Anderson High School.  Akins broke many color barriers during his distinguished career as an educator, mentor, and coach before retiring at age 80. Akins High School is named in his honor. He is a member of Wesley United Methodist Church and Alpha Phi Alpha Fraternity, Incorporated.  Akins is married to Estella, and they have two daughters. Dr. Akins joins past recipients Philip and Donna Berber, The Honorable Ronnie McDonald, Brian Periels and the Periels Foundation as recipients of this prestigious award. The Tower of Light Award is symbolic of the illuminated campanile as the tallest structure on campus and within the surrounding community.
DeVaughn's 60-minute performance, with DJ Mike Frierson pumping the beat and artist Demont Pinder mesmerizing the crowd with his pen and paper creative abilities, captured the moment with a "selfie" before settling into his music from his latest release, "A Place Called Loveland," on his own label.  Selections such as "You, "Guess Who Loves You More," and his biggest hit "Women" that was nominated for a 2008 Grammy Award in the Best Male R&B Vocal Performance category propelled his career. His 2010 the "Love and War MasterPeace" album was also nominated for a Grammy for Best R&B Album of the Year.
DeVaughn joins a long list of Grammy nominated artists to perform at the HT Gala such as Regina Belle, Najee, Will Downing, and Johnny Gill. The musical entertainment for the evening also featured a reunion for HT former graduates who comprise the group SoulKitchan, back by popular demand.  Soulkitchan's musical selections took listeners down memory lane with their genre of hits from the 1970s to the 1990s. As students, the musicians launched the comeback of the HT jazz ensemble.  Current students with the HT Jazz Elite, under the direction of Dr. Javier Stuppard, showcased their musical talents during the H-E-B reception.
To date, sponsorships are as follows: Presidential Sponsor, H-E-B.  Gold Sponsors, Texas Representative Dawnna Dukes; George Brothers Kincaid & Horton L.L.P.; Gourmet Services/Ala Carte Menu Services, Inc.; Huston-Tillotson University International Alumni Association; Seton Healthcare Family; and The University of Texas at Austin/Office of the President and Office of the Vice President for Diversity and Engagement. Silver Sponsors, Austin Coca-Cola Bottling Company; Carter Design & Associates; GSD&M (Liz and Duff Stewart); Henna Chevrolet; Johnson Controls, Inc.; Sodexo; Sterling Acura of Austin; Stratus Properties, Inc.; University Federal Credit Union; Wells Fargo Bank; Cecelia P. Abbott; Francis H. Alford; Donna D. Carter; C. Lee Cooke; Jaki Davis; James E. Dorff; Larry L. Earvin; Terrance D. Grant-Malone; Sandra L. Griffin; Albert Hawkins; Louis M. Henna, Jr.; Zan W. Holmes, Jr.; Lauren Snowden Ingram; Trennis Jones; J. Winston Krause; Paul J. Legris; Thomas O. McDowell; C. Mark Melliar-Smith; Kathryn S. Page; Ruth C. Robinson; John Scroggins; Beverly G. Sheftall; Liz Stewart; David A. Talbot, Jr.; Orlando L. Taylor; A. Leon Thompson. Bronze Sponsors; Austin Cab Company; Austin Energy Company; Austin Revitalization Authority; City of Austin; Cushman & Wakefield/Oxford Commercial; J.E. Dunn Construction/Casa Bella Architects; Frost; Grande Communications; Greater Texas Federal Credit Union; The Guess Group, Inc.; Heritage Title Company of Austin; Institute for Professional Development; John P. McGovern Foundation; Judy's Foundation; Lee Tilford Agency; Prosperity Bank; St. James Episcopal Church; Texas Methodist Foundation; Yellow Cab Company; Don W. Brown; Richard Oppel; Delphia A. Ridley; and Scott Schmidt and Carol McDonald. Silent Auction Sponsors, Acupuncture Austin; Amy's Ice Cream; Austin Omni Southpark; Austin's Park 'n Pizza; Austin Toros; Austinuts; Barrington Miles Company; Michael C. Bell; Blazer Tag; Capital Cruises; Capitol City Comedy Club; Margaret Chadwick; Chaparral Ice Center; Courtyard by Marriott Austin Downtown; Dallas Stars Foundation; Lynne Dobson; Eastside Café; Elements Laser Spa; Evergreen Studios; Food! Food!; Highland Lanes; Hoover's Cooking; Houston Astros Baseball Club; Knockout Sports; Pie Haven; Lady Bird Johnson Wildflower Center; Lone Star Riverboat; Michael Hirsch; Paramount Theatre; Round Rock Express; Round Rock Travel; Russell Korman Fine Jewelry and Watches; Saad Family of the Ezulwini Safari Games Lodges; Sea World San Antonio; Splashtown San Antonio; Sterling Acura of Austin; Texas Performing Arts; and Tom Joyner Foundation.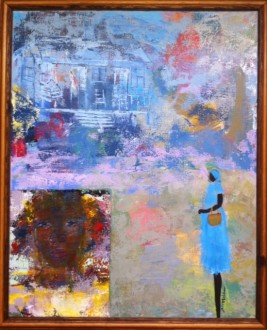 HT supporters have one additional opportunity to support the MASKED Gala by bidding on a Deborah Shedrick original.  The bidding process is open for the Shedrick piece titled, "Spring Memory." The 24 x 30 framed acrylic on canvas is a portrait of a young woman's memories of childhood who recalls the outside smell of honeysuckle and the trees that she loved to climb as well as the front porch, creeking screen door, rocking chair, and grandma's favorite blue dress and everyday purse back home. The minimum bid is $1,800. Bidders may email their name and bid to events@htu.edu. The print is available for viewing by calling 512.505.3073.