Lady Ram's volleyball placed four players on the 2013 RRAC All-Conference teams.
Friday Nov, 08 2013
Brownsville, TX — The Lady Rams volleyball team placed four of their players on the 2013 Red River Athletic Conference All-Conference teams. Senior right side hitter Nicole Cowan (Yoakum/UMHB) and junior middle Octavia Golden (Dallas/Trinity Valley CC) received the honor of being on the RRAC All-Conference Second Team. Freshman outside hitter D'Janae Robinson (San Antonio/Northwest Vista College) and junior setter Amber Green (San Antonio/Roosevelt HS) are on the RRAC All-Conference Honorable Mention Team while Cowan and Green are also the RRAC All-Conference Champions of Character team.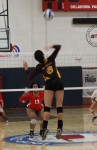 Co-Captain Cowan had 165 kills, 47 blocks, 235 digs, while passing at the highest level with 54.7 percent perfect passes on offense. Coach Kaase states, "Nicole's passion for this sport has allowed her to lead by example both on the court and off the court and has provided the team with consistent leadership when facing difficult times." This is Cowan's first appearance on the RRAC Champions of Character team.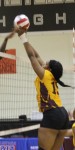 Golden had 148 kills and 73 total blocks proving a solid front row during half of the Lady Rams rotation on the court. Coach Kaase states, "Octavia provided consistent and solid front row play by being able to reject the opponent's attacks allowing the Lady Rams multiple chances to win the rally."

Robinson led the Lady Rams in both kills (170) and digs (285) while supporting Cowan in the passing ranks with 41.1 percent perfect passes. Coach Kaase states, "D'Janae is just beginning her collegiate career and has already made her mark in the conference for being a dynamic and explosive outside hitter despite giving 4-5 inches on the other players."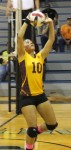 Co-Captain Green played two important roles for the Lady Rams this year by starting out as the libero on defense moving to one of the starting setters in the Lady Rams offense. She had 249 digs and 197 assists in averaging 3.6 assists per set earning her one RRAC Setter of the Week award. Green's appearance on the RRAC Champions of Character team marks her third consecutive year receiving this award. Coach Kaase states, "Amber displays through athletics what a true 'student-athlete" should be, working hard in the class room while providing both athletic and academic leadership to her teammates by demonstrating the five core values of the NAIA Champions of Character program."