Pastor Olu Brown says, 'Raise the Standard by Being the Standard'
Tuesday Oct, 29 2013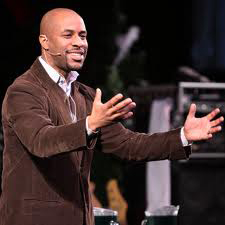 Pastor Olu Brown of Impact United Methodist Church in Atlanta, Georgia, one of the fastest growing African American United Methodist churches in the country, brought his ministry to HT in support of campus outreach efforts.
Panelists, facilitated by HT's Rev. Donald Brewington, University Chaplain, Dr. Kwesi Amoa, Dean of the College of Arts and Sciences; Ms. Jennine Krueger, Instructor of English; and students Ms. Jelisa Johns and Mr. Calvin McGhee, shared student concerns.
Words of encouragement from Pastor Olu Brown:
If you are high on your faith with poor grades, you are a poor witness.
If you have the vision, all things are possible.
Vision comes from the inside.
No matter where you are or what you are going through, you never have to be afraid.
Plan to continue the efforts during Civility Week, sponsored by the Center for Religious Life and Campus Ministry.