Families Celebrate First Generation 2013 College Graduates
Tuesday Jun, 04 2013
Entrepreneur, lawyer, professor, legislator and former New Orleans Mayor Marc H. Morial rendered Huston-Tillotson University's Commencement address.  Morial, who currently serves as the president of the National Urban League, spoke on Saturday, May 4, 2013, at 8:30 a.m. during the convocation address on the athletic field. Pictured are Provost Vicki Lott, Morial, and HT President Larry L. Earvin.
Families and friends beam with pride.
Order Your Commencement Photos and DVD

Photo of You On Stage Receiving Your Diploma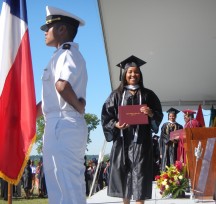 Photo of You With Your Diploma
Keep It Digital
Attn:  Mike McLennan
mike_mclennan@keepitdigital.com
512.217.3177
Place your order using the Info/OrderForm
1.  Options
2.  Order Information
Order Your 2013 DVD Online.
Place "Commencement DVD" in the memo line for a purchase of $19.95 on the "General Revenue Line".