Lady Ram's volleyball lose close match in 5 sets to Bacone College
Monday Oct, 01 2012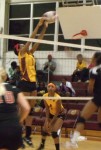 Austin, TX — The Lady Rams volleyball team fought a hard battle with the Warriors from Bacone College 25-21, 19-25, 23-25, 26-24, 7-15.
 Senior outside hitter Chantelia Washington (Austin/Travis HS) led the Lady Rams offensive attack knocking down 8 kills with help from junior outside hitter Cynthia Allen (Houston/Alief Taylor HS) with 7 kills. Sophomore setter Amber Green (San Antonio/Roosevelt HS) directed the offense with 15 assists. Nicole Cowan (Yoakum/UMHB) led the back row defense with 17 digs with help from Green's 14 digs. Freshman Keara Stiles (Austin/LBJ HS) had 2 solo and 3 assist blocks and is ranked #3 in the RRAC in block per set.
 Next Opponents: The Lady Rams will host Langston University at 1:00 pm and Jarvis Christian College at 4:00 pm on Saturday in a regular season match. Come and support the Lady Rams volleyball team in their journey towards the RRAC conference tournament.