Lady Rams volleyball beats Jarvis Christian in first conference win!
Wednesday Sep, 26 2012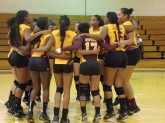 Hawkins, TX — The Lady Rams volleyball team completed their third match during a road trip to East Texas with a victory over Jarvis Christian College in 4 sets 25-15, 14-25, 25-20, 25-21. HT is now 1-2 in conference play and 1-15 for the season.
 Senior outside hitter Chantelia Washington (Austin/Travis HS) led the Lady Rams offensive attack posting up 15 kills with help from junior right-side hitter Nicole Cowan (Yoakum/UMHB) with 9 kills and a hitting percentage of 0.438. The 6-2 offense was commandeered by sophomore setter Amber Green (San Antonio/Roosevelt HS) with 20 assists and junior setter Olivia Sanchez (San Antonio/Palo Alto CC) with 16 assists. On the defensive side Cowan led in digs with 15 while Washington contributed 12 digs to solidify the Lady Rams back row in controlling the ball while senior right-side Faron Bradley (Dallas/Dillard) had 3 solo blocks and 6 assist blocks with help from freshman middle Keara Stiles (Austin/LBJ HS) with 5 assist blocks.
 In other matches during the road trip the Lady Rams lost to Texas College earlier that morning in 4 sets 22-25, 16-25, 25-13, 23-25 and the night before lost to Wiley College 9-25, 11-25, 20-25.
 For the weekend, Cowan had 22 kills, 6 aces, 42 digs, 4 solo blocks and 6 assist blocks and Bradley had 20 kills, 5 aces, 13 digs, 6 solo blocks and 10 assist blocks. Green ended up with 43 assists and 17 digs and Sanchez with 38 assists and 17 digs.
 Next Opponents: The Lady Rams will host their first home conference matches this weekend with Bacone College on Friday night at 7:00 pm and Langston University at 1:00 pm on Saturday. They will also play Jarvis Christian College at 4:00 pm on Saturday in a regular season match. Come and support the Lady Rams volleyball team in their journey towards the RRAC conference tournament.