Homecoming Basketball Game
Saturday Feb, 09 2013
HT Homecoming and Reunion Weekend 2013 hotel information.
Holiday Inn Midtown
6000 Middle Fiskville Road
Austin, TX  78752
512.451.5757
http://www.holidayinn.com/hotels/us/en/austin/ausmf/hoteldetail
Homecoming Tickets Available Jan. 14

Tickets for the Feb. 9th basketball game are $20 for general admission; $5 for children 6-12. To order tickets by telephone, call 512.505.6442 between the hours of 8:30 a.m. and 4:30 p.m. Leave a message with your name, address, and telephone number for a call back. Individuals placing telephone orders must make arrangements to pick up tickets prior to the game. Tickets will not be mailed, sold the day of the game, or placed on hold or reserve.
Homecoming 2013 Worship Service
Gethsemane Lutheran Church
Sunday, Feb. 3
10:15 a.m.
200 West Anderson Lane
Pastor Karl Gronberg and members invite the community to take part in this homecoming tradition by joining the HT family for morning worship.
Decoration Contest
Monday, Feb. 4
All Day Long Event
Campus-Wide
Do you have creative spirits?  Well here's your chance to show what you've got.  All day there will be a campus-wide decoration competition so may the best decorator win!
Rammy Nominations
Monday, Feb. 4
11:30 a.m.-1 p.m.
Davage-Durden Student Union
Student Government (SGA) is hosting the Rammy Awards on Wednesday, but first we must declare the nominees.  Come out to the Student Union and nominate your peers for awards from best dressed to most likely to succeed!
Paint The Town
Monday, Feb. 4
5 p.m.-8 p.m.
Davage-Durden Student Union
Back by popular demand!  Mark your HT Territory, from Greek-lettered organizations, honor societies, to athletic teams.  The Student Union and Residence Halls are your playground from 7-9!
Rammy Awards Voting
Tuesday, Feb. 5
11:30 a.m.-1 p.m.
Davage-Durden Student Union
Nominations are in!  Now comes the time to vote for the finalists!  Every vote counts, so come on out to the Student Union and VOTE!
Fashion Show
Tuesday, Feb. 5
7 p.m.-9 p.m.
Davage-Durden Student Union
It's still homecoming, and we haven't even reached the halfway mark of this fun-filled week.  Come out to the Student Union from 7-9 as we observe the true art of modeling.  Watch as HT students strut their stuff on the runway, showing off their various mixtures of class and swag!
Internship and Fellowship Fair
Wednesday, Feb. 6
11:30 a.m.-1 p.m.
Davage-Durden Student Union
Career and Graduate Development has invited 20+ employers to engage with the students looking to fulfill their career aspirations! Dress to impress and bring lots of résumés.
Talent Show/Rammy Announcements/WildOut Wednesday
Wednesday, Feb. 6
7 p.m. – 9 p.m.
King-Seabrook Chapel
One of the most highly anticipated events of the week!  Who's got talent?  Do you think you can freestyle?  Did you win a Rammy Award?  All these questions PLUS MORE will be answered in the chapel Wednesday night!  Doors open at 7 p.m.
Flash Dance
Wednesday, Feb.6
Anytime, Anywhere
Huston-TIllotson's very own have created a dance and Wednesday will be the debut.  Wherever you are on campus, when you hear the cue, HT Flash Dance it UP!
Alumni Worship Service
Thursday, Feb 7
11 a.m. – 12 p.m.
King-Seabrook Chapel
HT alumni will be in attendance to share some words of encouragement to the current matriculating classes and visitors. Come hear the word.
Comedy Show/Concert
Thursday, Feb 7
Doors Open at 6 p.m. 
Mary E. Branch Gymnasium
Comedians Lav Love and Ronnie Jordan and music sensations Kirko Bangz and Elle Varner are set to premier on the campus.  Get ready for a night you won't forget and don't want to forget.  Student tickets will be $10 and $25 for Non-Students.  Tickets can be purchased by clicking here.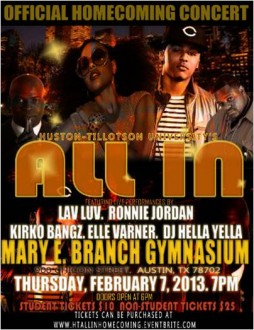 Alumni Career Presentation
Friday, Feb 8
10 a.m. – 11 a.m. and 5 p.m. – 6 p.m.
Agard-Lovinggood Auditorium
HT alumni will be hosting career presentations to current matriculating students based on their field of study!  Witness the success of those past graduates of this illustrious University!
Homecoming Pep Rally
Friday, Feb. 8
11 a.m. – 1 p.m.
Mary E. Branch Gymnasium

We can't wait to see you. Join the cheerleaders, members of the men's and women's basketball team, and alumni during this "all the way live" pep rally in the gymnasium. Don't forget to stop by the cafeteria for all-you-care-to-eat catfish for $6.25. Start texting your friends now.
Note the Extended Time
Alumni Meet and Greet
Friday, Feb. 8
5 p.m. – 8 p.m.
Davage-Durden Student Union Canteen
Friday from 6-8, alumni here's your chance to come back and meet up with other past students and faculty. Come to the Student Union Canteen as we expect 200+ alumni to be in the building!
Tailgate/Barbecue
Saturday, Feb. 9
10 a.m. – 10:10 p.m.
Huston-Tillotson University Campus
Homecoming just is not homecoming without tailgating. Get ready to show off your culinary skills at the annual tailgating party. Plan to set up early to select your desired spot on campus. First come, first served basis only. Free admission. Contact Miss Ashley Smith, Media Specialist and Special Events Coordinator, 512.505.6417, for more information and your tailgating permit. Remember, HT is a tobacco-free campus.
Game Day
Saturday, Feb. 9
Women start at 5:30 p.m.
Men start at 7:30 p.m.
Mary E. Branch Gymnasium
What time is it GAME TIME! Now, the greatest sports event on HT's campus is finally here!  Get there early and get a seat to enjoy the Rams as they welcome LSU-Shreveport to the yard.  Go Lady Rams and Rams!
Reminisce Room
Saturday, Feb. 9
10 a.m. – 10 p.m.
Davage-Durden Student Union
All day game day the Student Union will be the home for the Reminisce room.  Pictures of former HT faculty, staff and students will be on display.  Share the memories.
Campus Clean -Up
Sunday, Feb. 10
12 p.m. – 1 p.m.
Campus Wide
Time to clean up after such a festive weekend weekend.  Let's make sure our campus is beautified once again!