Bishop E.T. Dixon Lecture Addresses the Question. Why Are You Here?
Thursday Jan, 30 2014
"Discovering vocation does not mean scrambling toward some prize just beyond my reach but accepting the treasure of true self I already possess." –Author and Teacher, Parker J. Palmer
As creations of God, we are divinely and uniquely shaped.  Seeking the meaning and relevance of our lives is an ongoing journey that begins when (or before) most of us are asked what we want to be when we grow up.  How do we explore who we are created to BE, and recognize that as the foundation of what we are called to DO in the world?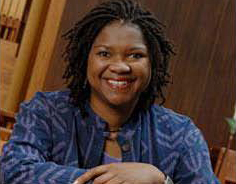 "Vocare: The Art of Listening for Divine Calling in Work and Life" will be addressed during the Seventh Annual Huston-Tillotson University Bishop E.T. Dixon Lecture that  will be held on Thursday, Jan. 30, 2014, from 2 p.m. to 3:30 p.m. on the campus in the Agard-Lovinggood Auditorium, 900 Chicon Street.  Rev. Bridgette Young Ross, Assistant General Secretary for Collegiate Ministries, Division of Higher Education at the General Board of Higher Education and Ministry, will use biblical principles and her life's journey in sales, marketing, and human resources in corporate America to her current work in the ministry to relate the topic to those seeking answers to their purpose in life. Her gift also includes equipping young people to hear God's calling through her passion for teaching, spiritual nurturing, and Christian formation.
Ross is a liaison to The United Methodist Campus Ministry Association, and the National Association of College and University Chaplains and College Union. Prior to her current positions, Ross served for nine years at Emory University as the Senior Associate Dean of the Chapel and Religious Life, and for two years as the Director of the Wesley Foundation at Georgia Tech.  She is an ordained Elder of the North Georgia Annual Conference of The United Methodist Church and served in various local church and conference appointments before answering the particular call to be in ministry on the college campus. 
A native of Chicago, Illinois, Ross earned a Bachelor of Science degree in Business Management from the Illinois Institute of Technology, a Master of Business Administration degree from the University of North Carolina at Chapel Hill, and a Master of Divinity from Gammon Theological Seminary at the Interdenominational Theological Center. 
Dixon, for which the lecture is named, is one of two HT graduates to receive "bishop" status.  He graduated magna cum laude from what was Samuel Huston College in 1943 before earning a degree from Drew Theological Seminary. He served the church and community in numerous positions while establishing innovative programs before and after becoming president of Philander Smith College in Little Rock, Arkansas. He retired in 1992 and died in 1996. Huston-Tillotson is affiliated with The United Methodist Church, the United Church of Christ, and offers a minor in religious studies. 
She is married to the Rev. Vance P. Ross, Senior Pastor of Gordon Memorial United Methodist Church, Nashville, Tennessee.  Their family includes three adult children and two grandchildren.
Free and open to the public.  For more information, contact Rev. Donald E. Brewington, University Chaplain, 512.505.3054, or debrewington@htu.edu.