Dr. Albert Mosley to Speak During the Bishop E.T. Dixon Lecture
Thursday Jan, 31 2013
The Sixth Annual Huston-Tillotson University Bishop E.T. Dixon Lecture, featuring Dr. Albert Mosley, President of Gammon Theological Seminary in Atlanta, GA, will be held on Thursday, Jan. 31, 2013, from 2 p.m. to 3:30 p.m. on the campus in the Agard-Lovinggood Auditorium, 900 Chicon Street.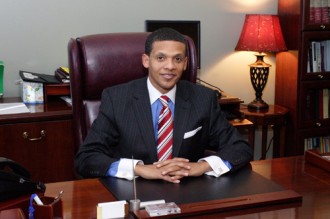 Mosley will address the faith community's response to human sexuality, especially sexual pluralism and non-hetero expressions of sexuality under the topic, "Let's Talk About Sex, Baby: Human Sexuality and the Black Church Experience." Mosley mentions that the black faith community must address issues of human sexuality, if the church desires to retain its historic prominence in black life.
Gammon, the United Methodist component of The Interdenominational Theological Center (ITC),  is considered by many as the world's premier resource for black religious scholarship and faith-based solutions to the spiritual and socio-economic challenges confronting the African American community.
Prior to being named the President of Gammon, Mosley served as the University Chaplain and Director of the Multi-Faith Studies Program at The Johns Hopkins University in Baltimore, MD. Before his appointment at The Johns Hopkins University, Mosley served as Director of the Center for Civic Engagement and Professor in the Penonni Honors College of Drexel University (Philadelphia, PA), teaching courses ranging from comparative ethics to public life and leadership.
Mosley was born and raised in rural Mississippi.  He is a Phi Beta Kappa graduate of United Methodist-related Millsaps College and has also earned degrees from Duke University and Yale University.  He is the recipient of numerous awards and honors, including the William J. Griffith Distinguished University Service Award given by Duke University and the Distinguished Preaching Award given by Duke Divinity School.
Dixon, for which the lecture is named, is one of two HT graduates to receive "bishop" status.  He graduated magna cum laude from what was Samuel Huston College in 1943 before earning a degree from Drew Theological Seminary. He served the church and community in numerous positions while establishing innovative programs before and after becoming president of Philander Smith College in Little Rock, Arkansas. He retired in 1992 and died in 1996. Huston-Tillotson is affiliated with The United Methodist Church, the United Church of Christ, and offers a minor in religious studies. 
Free and open to the public.  For more information, contact Rev. Donald E. Brewington, University Chaplain, 512.505.3054, or debrewington@htu.edu.