Prospective Students Visit HT During University Day
Saturday Oct, 19 2013
University Day
Saturday, Oct. 19, 2013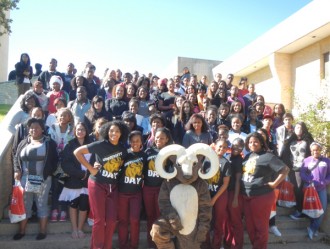 Students from the Central Texas as well as neighboring cities, Round Rock, Georgetown, San Antonio, and the Dallas area, gathered on the Huston-Tillotson University campus for University Day held on Saturday, Oct.  19, 2013.  " I've just never seen colleges outside of San Antonio," said Gabriella Gorley, a sophomore from George Gervin Academy.  "It's exciting to be here!" Alumna Irene Thompson, Class of 1942, coordinated the San Antonio gathering of more than 40 students (pictured below).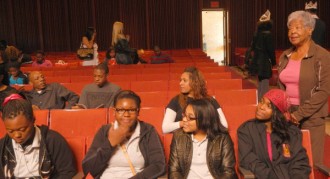 The prospective students were greeted by current HT students who guided them through the day's activities.  The convenient, electronic registration set up helped the students navigate more effectively through the process before taking pictures with "Rowdy the Ram," the University's mascot.  The opening ceremony began with a word from HT University President Dr. Larry L. Earvin as he advised students. "Don't let anyone tell you cannot go to college." 
Students were then informed about various support services such as the Center for Academic Success and the Writers' Studio.  Representatives from Admission, Financial Aid, Religious Life, and Intercollegiate Athletics addressed questions and explained processes and procedures. In addition, current students shared their experiences and success stories.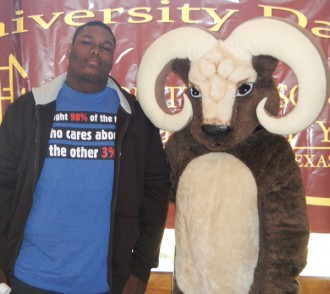 Parent Jennifer Jones, mother of a Pride Prep Academy senior Julius Jones (pictured above), Lancaster, Texas, was thrilled to be a part of University Day. After researching prospective colleges in the Texas area, Jones knew that she wanted her son to attend an historically black college. She has been saving for her son's college education through the Texas Guaranteed Tuition Plan.  
The day ended with an academic fair in order for students to speak to faculty about degree options and career aspirations.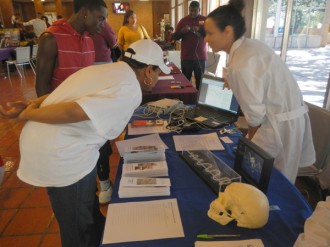 Missed University Day? Schedule a campus visit.