Terry S. Smith and James R. Wilson Receive HT's Honorary Degree
Friday May, 11 2012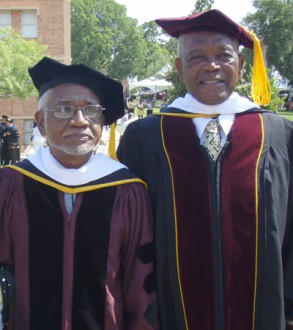 (AUSTIN, Texas) 5.11.12 — Two Austin icons received the honorary Doctor of Humane Letters (L.H.D.) degree during Huston-Tillotson University's Commencement Convocation held Saturday, May 5, 2012.  President Larry L. Earvin awarded the honorary doctorate degree to Terry S. Smith and James R. Wilson.
Smith is one of HT's longest serving employees with 31 years of continuous service under three presidents.  Smith has held numerous positions throughout his HT career from director to interim president and is the resident historian of the University's 137-year history.  He served as Director of Financial Aid and Admission (1981-1988); Dean of Enrollment Services (1988‐1989); Vice President for Planning and Research (1989‐1992); Interim Vice President for Student Affairs (1991-1992); Executive Vice President for the University (1992‐2001); Interim Vice President for Administration and Finance (2004-2005); Interim Vice President for Institutional Advancement (2010-2011); and Executive Assistant to the President since 2001;
Smith earned his undergraduate degree in political science at Mississippi State University, and he completed a Master of Education (M.Ed.) from the same University. While still an undergraduate, he also pursued his academic interest in electrical engineering through study at the University of Denver and Yale University as well as later pursuing management and leadership training at Harvard University.
Smith has been the constant anchor of stability in the life of the University during times both challenging and celebratory and is the familiar face of the University for hundreds of graduates who return with pride to their alma mater.
Wilson's distinguished and meritorious service to HT began in 1953 when he became a student and an accomplished athlete, lettering in three sports during his four years of participation. He was a basketball standout at Austin's L.C. Anderson High School before enrolling and graduating from Huston-Tillotson in 1957 where he earned a Bachelor of Science degree in physical education, following which he earned a Master of Science degree from Prairie View A&M University prior to returning to HT in 1960 as an instructor in the Physical Education Department;
Wilson made a tremendous impact on the campus community when he not only implemented innovative teaching and new curriculum and assessment techniques but participated on various campus committees, advising students, coaching numerous sports, and moving from instructor to associate professor to athletic director.
Wilson served as the Huston-Tillotson athletic director for 44 years, growing the department from three to eight men's sports programs and adding seven women's programs, guiding 26 All Americans, and winning numerous championships.
Wilson distinguished himself beyond the HT campus and served in a supervisory role within the City of Austin's Parks and Recreation Department.  He is held in high esteem as a respected sports official locally and nationally, officiating high school championship games and numerous youth sports leagues from the Lone Star and the Southwest Conference to Big Twelve conference football games, while establishing historic significance as the second African American to officiate football in the Southwest Conference.
 Wilson was awarded the Shorty Alderson Award in 1993 for his outstanding officiating and contributions in football and was inducted in 2011 into the National Association of Intercollegiate Athletics (NAIA) Hall of Fame for Meritorious Service.