Bishop Ernest T. Dixon Lecture
Thursday Jan, 26 2012
Huston-Tillotson University's Black History Month Celebration
Bishop Ernest T. Dixon Lecture Featuring Dr. Herbert R. Marbury
"What's Going On? The Joshua Generation: The Hope of a Church"
Thursday, January 26
2 p.m. – 3:30 p.m.
Agard-Lovinggood Auditorium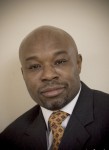 Campus Ministry will launch the University's Black History Month programming with a lecture, featuring Dr. Herbert R. Marbury, Assistant Professor of Hebrew Bible at Venderbilt University (pictured).
As the black church declines in membership, many are raising questions about its usefulness. If the black church is to reclaim its place as a powerful center in the community, then the next generation must ask the right questions. Four decades ago, Marvin Gaye asked the critical question, "What's Going On?" This lecture asks Gaye's question at intersection of civic and spiritual engagement between the black church and a black community still in crisis and raises questions for the legacy of the Joshua generation.
Marbury is Assistant Professor of Hebrew Bible at Vanderbilt University.  He holds a doctorate degree in Religion from Vanderbilt University, and the Master of Divinity degree from Gammon Theological Seminary at the Interdenominational Theological Center. He spent his undergraduate years at Emory University studying English and African American Studies. His research interests include History of the Second Temple Period, Biblical Rhetoric, and African American Biblical Interpretation.
Marbury, a fifth generation Methodist minister, has taught Hebrew and Biblical Interpretation at American Baptist College and Vanderbilt University Divinity School. He has served as a mentor in the Doctor of Ministry Program at United Theological Seminary in Dayton, Ohio, for the program group "The Black Church and Social and Civic Empowerment." He has lectured and presented his scholarship at campuses, professional conferences, and churches around the globe.
Currently, Marbury is working on the manuscript for a book on African American Biblical Interpretation. An ordained elder in the North Georgia Conference of The United Methodist Church, Marbury is the former pastor of Old National United Methodist Church in Riverdale, Georgia.  Prior to moving to Nashville, he served as University Chaplain at Clark Atlanta where, in 2004, he was named the Chaplain of the Year by The United Methodist Higher Education Foundation for all 120 United Methodist Church related colleges and universities. In 2006, Marbury joined the faculty at Vanderbilt University in Nashville, Tennessee, where he teaches Old Testament, Hebrew, Biblical Hermeneutics, and Black Religion.
For more information, contact Rev. Donald Brewington, University Chaplain, 512.344.9380. Free and open to the public.